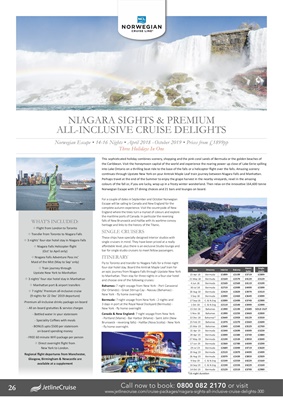 For a couple of dates in September and October Norwegian
Escape will be sailing to Canada and New England for the
complete autumn experience. Visit the countryside of New
England where the trees turn a myriad of colours and explore
the maritime ports of Canada. In particular the reversing
falls of New Brunswick and Halifax with its wartime convoy
heritage and links to the history of the Titanic.
SINGLE CRUISERS
These ships have specially designed interior studios with
single cruisers in mind. They have been priced at a really
affordable level, plus there is an exclusive Studio lounge and
bar for single studio cruisers to meet fellow passengers.
ITINERARY
Fly to Toronto and transfer to Niagara Falls for a three night
four-star hotel stay. Board the Amtrak Maple Leaf train for
an epic journey from Niagara Falls through Upstate New York
to Manhattan. Then stay for three nights in a four-star hotel
and choose one of the following cruises:
Bahamas: 7 night voyage from New York - Port Canaveral
(for Orlando) - Great Stirrup Cay - Nassau (Bahamas) -
New York - fly home overnight
Bermuda: 7 night voyage from New York - 2 nights and
3 days in port at the Royal Naval Dockyard (Bermuda) -
New York - fly home overnight
Canada & New England: 7 night voyage from New York
- Portland (Maine) - Bar Harbor (Maine) - Saint John (New
Brunswick - reversing falls) - Halifax (Nova Scotia) - New York
- fly home overnight.
WHAT'S INCLUDED:
✥ Flight from London to Toronto
✥ Transfer from Toronto to Niagara Falls
✥ 3 nights' four-star hotel stay in Niagara Falls
✥ Niagara Falls Helicopter flight
(Oct' to April only)
✥ Niagara Falls Adventure Pass inc'
Maid of the Mist (May to Sep' only)
✥ Train journey through
Upstate New York to Manhattan
✥ 3 nights' four-star hotel stay in Manhattan
✥ Manhattan port & airport transfers
✥ 7 nights' Premium all-inclusive cruise
(9 nights for 22 Dec' 2019 departure)
-Premium all-inclusive drinks package on-board
- All on-board gratuities & service charges
- Bottled water in your stateroom
- Speciality Coffees with meals
- BONUS upto $500 per stateroom
on board spending money
- FREE 60 minute WiFi package per person
✥ Direct overnight flight from
New York to London.
Regional flight departures from Manchester,
Glasgow, Birmingham & Newcastle are
available at a supplement
This sophisticated holiday combines scenery, shopping and the pink coral sands of Bermuda or the golden beaches of
the Caribbean. Visit the honeymoon capital of the world and experience the roaring power up close of Lake Eerie spilling
into Lake Ontario on a thrilling boat ride to the base of the falls or a helicopter flight over the falls. Amazing scenery
continues through Upstate New York on your Amtrak Maple Leaf train journey between Niagara Falls and Manhattan.
Perhaps travel at the end of the Summer to enjoy the grape harvest in the nearby vineyards, revel in the amazing
colours of the fall or, if you are lucky, wrap up in a frosty winter wonderland. Then relax on the innovative 164,600 tonne
Norwegian Escape with 27 dining choices and 21 bars and lounges on board.
NIAGARA SIGHTS & PREMIUM
ALL-INCLUSIVE CRUISE DELIGHTS
Norwegian Escape • 14-16 Nights • April 2018 - October 2019 • Prices from £1899pp
Three Holidays In One
Date Itinerary Interior Balcony
Haven
Suite
Single
studio
23 Apr 18 Bermuda £1899 £2199 £3719 £2899
21 May 18 Bermuda £2169 £2579 £4129 £3129
4 Jun 18 Bermuda £2169 £2569 £4119 £3199
30 Jul 18 Bermuda £2719 £2999 £4499 £3399
20 Aug 18 Bermuda £2419 £2829 £3979 £3519
3 Sep 18 Bermuda £2099 £2469 £3649 £3099
17 Sep 18 C. & N.Eng £2099 £2499 £3749 £2999
1 Oct 18 C. & N.Eng £2119 £2549 £3999 £2999
15 Oct 18 Bahamas £1999 £2199 £3389 SOLD OUT
5 Nov 18 Bahamas £1999 £2259 £3469 £2839
22 Dec 18 Bahamas* £2649 £2959 £6129 £3559
25 Feb 19 Bahamas £1979 £2279 £3369 £2699
25 Mar 19 Bahamas £2049 £2349 £3529 £2769
15 Apr 19 Bermuda £2349 £2699 £4399 £3239
29 Apr 19 Bermuda £2099 £2389 £3749 £2889
27 May 19 Bermuda £2199 £2539 £3959 £3049
17 Jun 19 Bermuda £2369 £2789 £4399 £3299
29 Jul 19 Bermuda £2689 £3099 £4719 £3639
19 Aug 19 Bermuda £2519 £2879 £4499 £3499
26 Aug 19 Bermuda £2079 £2439 £3859 £2929
9 Sep 19 C. & N.Eng £2199 £2559 £4229 £3169
16 Sep 19 C. & N.Eng £2199 £2559 £4229 £3169
14 Oct 19 Bermuda £2129 £2519 £3799 £2989
*16 night duration
26 Call now to book: 0800 082 2170 or visit
www.jetlinecruise.com/cruise-packages/niagara-sights-all-inclusive-cruise-delights-300