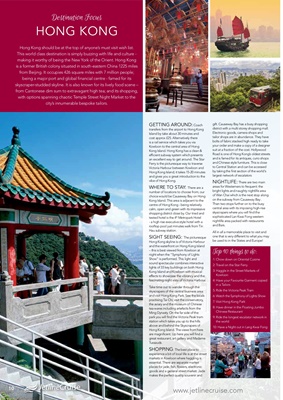 GETTING AROUND: Coach
transfers from the airport to Hong Kong
Island by take about 30 minutes and
cost approx £25. Alternatively there
is a rail service which takes you via
Kowloon to the central area of Hong
Kong Island. Hong Kong has a clean &
efficient subway system which presents
an excellent way to get around. The Star
Ferry is the picturesque way to traverse
Victoria Harbour between Kowloon and
Hong Kong Island; it takes 15-20 minutes
and gives you a great introduction to the
vibe of Hong Kong.
WHERE TO STAY: There are a
number of locations to choose from; our
choice would be Causeway Bay on Hong
Kong Island. This area is adjacent to the
centre of Hong Kong - being relatively
calm, open and green with its impressive
shopping district close by. Our tried and
tested hotel is the 4* Metropark Hotel
- a high rise executive style hotel with a
rooftop pool just minutes walk from Tin
Hau subway station.
SIGHT SEEING: The picturesque
Hong Kong skyline is of Victoria Harbour
and the waterfront on Hong Kong Island
- this is best viewed from Kowloon at
night when the "Symphony of Lights
Show" is performed. This light and
sound spectacular combines interactive
lights of 33 key buildings on both Hong
Kong Island and Kowloon with musical
effects to showcase the vibrancy and the
fascinating night vista of Victoria Harbour.
Take time out to wander through the
skyscrapers of the central business area
and visit Hong Kong Park. See the locals
practising Tai Chi; visit the conservatory,
the aviary and the museum of Chinese
tea-wares including artefacts from the
Ming Dynasty. On the far side of the
park you will find the Victoria Peak tram
station which takes you up to the hills
above and behind the Skyscrapers of
Hong Kong Island. The views from here
are magnificent. Up here you will find a
great restaurant, art gallery and Madame
Tussauds.
SHOPPING: The best place to
experience a bit of local life is at the street
markets in Kowloon where haggling is
essential. There are separate market
places for jade, fish, flowers, electronic
goods and a general street market. Jade
makes the perfect quality souvenir and
gift. Causeway Bay has a busy shopping
district with a multi storey shopping mall.
Electronic goods, camera shops and
tailor shops are in abundance. They have
bolts of fabric stacked high ready to take
your order and make a copy of a designer
suit at a fraction of the cost. Hollywood
Road is one of Hong Kong's oldest streets
and is famed for its antiques, curio shops
and Chinese style furniture. This is close
to Central Station and can be accessed
by taking the first section of the world's
largest network of escalators
NIGHTLIFE: There are two main
areas for Westerners to frequent: the
bright lights and naughty nightlife area
of Wan Chai which is the next stop along
on the subway from Causeway Bay .
Then two stops further on to the busy
central area with its imposing high-rise
skyscrapers where you will find the
sophisticated Lan Kwai Fong western
nightlife area packed with restaurants
and Bars.
All in all a memorable place to visit and
one that is very different to what you may
be used to in the States and Europe!
Destination Focus
HONG KONG
Hong Kong should be at the top of anyone's must visit wish list.
This world class destination is simply buzzing with life and culture -
making it worthy of being the New York of the Orient. Hong Kong
is a former British colony situated in south-eastern China 1225 miles
from Beijing. It occupies 426 square miles with 7 million people;
being a major port and global financial centre - famed for its
skyscraper-studded skyline. It is also known for its lively food scene -
from Cantonese dim sum to extravagant high tea; and its shopping,
with options spanning chaotic Temple Street Night Market to the
city's innumerable bespoke tailors.
Top 10 things to do:
1: Chow down on Oriental Cuisine
2: Travel on the Star Ferry
3: Haggle in the Street Markets of
Kowloon
4: Have your Favourite Garment copied
in a Tailors
5: Ride the Victoria Peak Tram
6: Watch the Symphony of Lights Show
7: Visit Hong Kong Park
8: Have dinner in the Floating Jumbo
Chinese Restaurant
9: Ride the longest escalator network in
the world
10: Have a Night out in Lang Kwai Fong
10