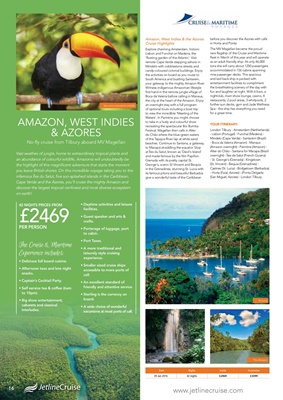 Amazon, West Indies & the Azores
Cruise Highlights
Explore charming Amsterdam, historic
Lisbon and Funchal on Madeira, the
'floating garden of the Atlantic'. Visit
remote Cape Verde stepping ashore in
Mindelo with cobblestone streets and
candy-coloured colonial buildings. Enjoy
the activities on board as you cruise to
South America and bustling Santarem,
your gateway to the mighty Amazon River.
Witness indigenous Amazonian lifestyle
first hand in the remote jungle village of
Boca da Valeria before calling in Manaus,
the city at the heart of the Amazon. Enjoy
an overnight stay with a full program
of optional tours including a boat trip
to view the incredible 'Meeting of the
Waters'. In Parintins you might choose
to take in a lively and colourful show
recreating the spectacular Boi Bumba
Festival. Magellan then calls in Alter
do Chão where the blue-green waters
of the Tapajos River lap at white sand
beaches. Continue to Santana, a gateway
to Macapá straddling the equator. Stop
at Îles du Salut, known as 'Devil's Island'
and made famous by the film Papillon.
Grenada with its pretty capital St.
George's, scenic St Vincent and Bequia
in the Grenadines, stunning St. Lucia with
its famous pitons and beautiful Barbados
give a wonderful taste of the Caribbean
Date Nights Inside Oceanview
05 Jan 2016 42 nights £2469 £3399
AMAZON, WEST INDIES
& AZORES
No-fly cruise from Tilbury aboard MV Magellan
Vast swathes of jungle, home to extraordinary tropical plants and
an abundance of colourful wildlife, Amazonia will undoubtedly be
the highlight of this magnificent adventure that starts the moment
you leave British shores. On this incredible voyage taking you to the
infamous Îles du Salut, five sun-splashed islands in the Caribbean,
Cape Verde and the Azores, you'll cruise the mighty Amazon and
discover the largest tropical rainforest and most diverse ecosystem
on earth!
before you discover the Azores with calls
in Horta and Ponta
The MV Magellan became the proud
new flagship of the Cruise and Maritime
fleet in March of this year and will operate
as an adult friendly ship. At only 46,000
tons she will carry about 1250 passengers
accommodated in 726 cabins spanning
nine passenger decks. This spacious
and laid back ship is packed with
entertainment facilities to compliment
the breathtaking scenery of the day with
fun and laughter at night. With 6 bars, a
nightclub, main show lounge, casino, 4
restaurants, 2 pool areas, 3 whirlpools, 2
further sun decks, gym and Jade Wellness
Spa - this ship has everything you need
for a great time.
YOUR ITINERARY:
London Tilbury - Amsterdam (Netherlands)
- Lisbon (Portugal) - Funchal (Madeira) -
Mindelo (Cape Verde) - Santerém (Brazil)
- Boca da Valeria (Amazon) - Manaus
(Amazon overnight) - Parintins (Amazon) -
Alter do Chão - Santana for Macapa (Brazil
overnight) - Îles de Salut (French Guiana)
- St. George's (Grenada) - Kingstown
(St. Vincent) - Bequia (Grenadines) -
Castries (St. Lucia) - Bridgetown (Barbados)
- Horta (Faial, Azores) - (Ponta Delgada
(San Miguel, Azores) - London Tilbury.
The Cruise & Maritime
Experience includes:
• Delicious full board cuisine.
• Afternoon teas and late night
snacks.
• Captain's Cocktail Party.
• Self service tea & coffee (6am
to 10pm).
• Big show entertainment,
cabarets and classical
interludes.
42 NIGHTS PRICES FROM
£2469PER PERSON
16
See some wonderful wildlife
The Amazon
• Daytime activities and leisure
facilities.
• Guest speaker and arts &
crafts.
• Porterage of luggage, port
to cabin.
• Port Taxes.
• A more traditional and
leisurely style cruising
experience.
• Smaller sized cruise ships
accessible to more ports of
call.
• An excellent standard of
friendly and attentive service.
• Sterling is the currency on
board.
• A wide choice of wonderful
excursions at most ports of call.
St Lucia