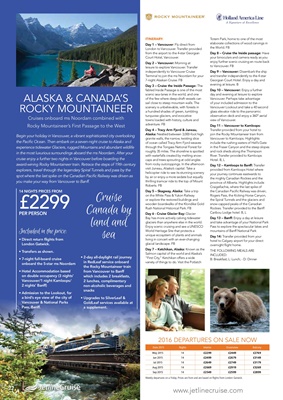 ITINERARY:
Day 1 - Vancouver: Fly direct from
London to Vancouver. Transfer provided
from the airport to the 4-star Georgian
Court Hotel, Vancouver.
Day 2 - Vancouver: Morning at
leisure to explore Vancouver. Transfer
independently to Vancouver Cruise
Terminal to join the ms Noordam for your
7-night Alaskan Cruise. FB
Day 3 - Cruise the Inside Passage: The
fabled Inside Passage is one of the most
scenic sea-lanes in the world, and one
of the few where deep-draft vessels can
sail close to steep mountain walls. The
scenery is unbelievable, with forests in
a hundred shades of green, tumbling
turquoise glaciers, and evocative
towns loaded with history, culture and
adventure. FB
Day 4 - Tracy Arm Fjord & Juneau,
Alaska: Nestled between 3,000-foot high
granite walls, the narrow, twisting slice
of ocean called Tracy Arm Fjord weaves
through the Tongass National Forest for
roughly 35 miles. The shoreline is spotted
with waterfalls created by melting snowcaps and trees
sprouting at odd angles
from rocky outcroppings. In the afternoon
visit Juneau, Alaska's capital. Take a
helicopter ride to see its stunning scenery
by air or enjoy a more sedate but equally
thrilling tramcar ride to the top of Mount
Roberts. FB
Day 5 - Skagway, Alaska: Take a trip
on the White Pass & Yukon Railway
or explore the restored buildings and
wooden boardwalks of the Klondike Gold
Rush National Historical Park. FB
Day 6 - Cruise Glacier Bay: Glacier
Bay has more actively calving tidewater
glaciers than anywhere else in the world.
Enjoy scenic cruising and see a UNESCO
World Heritage Site that protects a
unique ecosystem of plants and animals
living in concert with an ever-changing
glacial landscape. FB
Day 7 - Ketchikan, Alaska: Known as the
Salmon capital of the world and Alaska's
"First City," Ketchikan offers a wide
variety of things to do. Visit the Potlatch
Date 2015 Nights Interior Oceanview Balcony
May 2015 14 £2299 £2449 £2769
Jun 2015 14 £2499 £2679 £3149
Jul 2015 14 £2649 £2749 £3179
Aug 2015 14 £2669 £2919 £3269
Sep 2015 14 £2549 £2599 £2899
Weekly departures on a Friday. Prices are from and are based on flights from London Gatwick.
ALASKA & CANADA'S
ROCKY MOUNTAINEER
Cruises onboard ms Noordam combined with
Rocky Mountaineer's First Passage to the West
Begin your holiday in Vancouver, a vibrant sophisticated city overlooking
the Pacific Ocean. Then embark on a seven-night cruise to Alaska and
experience tidewater Glaciers, rugged Mountains and abundant wildlife
in the most luxurious surroundings aboard the ms Noordam. After your
cruise enjoy a further two nights in Vancouver before boarding the
award-wining Rocky Mountaineer train. Retrace the steps of 19th century
explorers, travel through the legendary Spiral Tunnels and pass by the
spot where the last spike on the Canadian Pacific Railway was driven as
you make your way from Vancouver to Banff.
Totem Park, home to one of the most
elaborate collections of wood carvings in
the World. FB
Day 8 - Cruise the Inside passage: Have
your binoculars and camera ready as you
enjoy further scenic cruising en route back
to Vancouver. FB
Day 9 - Vancouver: Disembark the ship
and transfer independently to the 4-star
Georgian Court Hotel. Enjoy a day and
evening at leisure. B
Day 10 - Vancouver: Enjoy a further
day and evening at leisure to explore
Vancouver. Perhaps take advantage
of your included admission to the
Vancouver Lookout and take a 40 second
glass elevator ride to the panoramic
observation deck and enjoy a 360º aerial
view of Vancouver.
Day 11 - Vancouver to Kamloops:
Transfer provided from your hotel to
join the Rocky Mountaineer train from
Vancouver to Kamloops. Highlights
include the rushing waters of Hell's Gate
in the Fraser Canyon and the steep slopes
and rock sheds along the Thompson
River. Transfer provided to Kamloops
Hotel. B, L
Day 12 - Kamloops to Banff: Transfer
provided from Kamloops Hotel where
your journey continues eastwards to
the mighty Canadian Rockies and the
province of Alberta. Highlights include
Craigellachie, where the last spike of
the Canadian Pacific Railway was driven,
Rogers Pass, the Kicking Horse Canyon,
the Spiral Tunnels and the glaciers and
snow-capped peaks of the Canadian
Rockies. Transfer provided to the Banff
Caribou Lodge hotel. B, L
Day 13 - Banff: Enjoy a day at leisure
and take advantage of your National Park
Pass to explore the spectacular lakes and
mountains of Banff National Park
Day 14: Transfer provided from your
hotel to Calgary airport for your direct
overnight flight home.
THE FOLLOWING MEALS ARE
INCLUDED:
B: Breakfast; L: Lunch; - D: Dinner
Included in the price:
• Direct return flights from
London Gatwick.
• Transfers as shown.
• 7-night full-board cruise
onboard the 5-star ms Noordam
• Hotel Accommodation based
on double occupancy (3 nights'
Vancouver/1 night Kamloops/
2 nights' Banff)
• Admission to the Lookout, for
a bird's eye view of the city of
Vancouver & National Parks
Pass, Banff.
14 NIGHTS PRICES FROM
£2299PER PERSON
Cruise
Canada by
land and
sea
• 2-day all-daylight rail journey
in RedLeaf service onboard
the Rocky Mountaineer train
from Vancouver to Banff
which includes 2 breakfasts,
2 lunches, complimentary
non-alcoholic beverages and
snacks
• Upgrades to SilverLeaf &
GoldLeaf services available at
a supplement.
22
2016 DEPARTURES ON SALE NOW