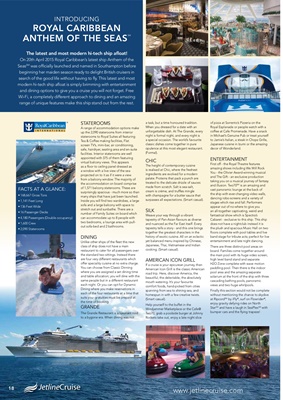 STATEROOMS
A range of accommodation options make
up the 2,090 staterooms from interior
staterooms to Royal Suites all featuring
Tea & Coffee making facilities, Flat
screen TV's, mini-bar, air conditioning,
safe, hairdryer, seating area and en-suite
facilities. Interior staterooms are well
appointed with 375 of them featuring
virtual balcony views. This appears
as a floor to ceiling panel dressed as
a window with a live view of the sea
projected on to it as if it were a view
from a balcony window. The majority of
the accommodation on board comprise
of 1,571 balcony staterooms. These are
surprisingly spacious - much more so than
many ships that have just been launched.
Inside you will find two wardrobes, a large
sofa and a large balcony with space to
stretch out and sunbathe. There are a
number of Family Suites on board which
can accommodate up to 8 people with
two bedrooms, a lounge area with pullout sofa-bed and 2 bathrooms.
DINING
Unlike other ships of the fleet this new
class of ship does not have a main
restaurant to cater for all passengers over
the standard two sittings. Instead there
are four very different restaurants which
offer speciality cuisine at no extra charge.
You can choose from Classic Dinning
where you are assigned a set dining time
and table allocation; you will dine with the
same people but in a different restaurant
each night. Or you can opt for Dynamic
Dining where you make reservations in
each of the four restaurants at a time that
suits you- gratuities must be prepaid at
the time of booking.
GRANDE
The Grande Restaurant is a luxuriant nod
to a bygone era. When dining was not
a task, but a time honoured tradition.
When you dressed for a date with an
unforgettable dish. At The Grande, every
night is formal night, and every night is
a special occasion. The world's favourite
classic dishes come together in pure
opulence at this most elegant restaurant.
(Formal).
CHIC
The height of contemporary cuisine
is realised at Chic, where the freshest
ingredients are evolved for a modern
palate. Proteins that pack a punch are
treated to the delicate drizzle of sauces
made from scratch. Salt is sea-salt,
cream is créme, and truffles mingle
with champagne for a butter sauce that
surpasses all expectations. (Smart casual).
SILK
Weave your way through a vibrant
tapestry of Pan-Asian flavours as diverse
and nuanced as the Far East itself. Every
tapestry tells a story - and this one brings
together the greatest characters in the
history of exotic cuisine. All on an eclectic
yet balanced menu inspired by Chinese,
Japanese, Thai, Vietnamese and Indian
cooking. (Smart casual).
AMERICAN ICON GRILL
If a cruise is your epicurean journey, then
American Icon Grill is the classic American
road trip. Here, discover America, the
beautiful, the delectable, the absolutely
mouth watering. It's your favourite
comfort foods, hand-picked from cities
spanning from sea to shining sea, and
homespun in with a few creative twists.
(Smart casual).
Help yourself to the buffet in the
Windjammer Marketplace or the Cafe@
Two70, grab a poolside burger at Johnny
Rockets take out, enjoy a late night slice
of pizza at Sorrento's Pizzeria on the
Royal Esplanade or people watch with a
coffee at Cafe Promenade. Have a snack
in Michael's Genuine Pub or treat yourself
to Jamie's Italian, a steak in Chops Grille,
Japanese cuisine in Izumi or the amazing
decor of Wonderland.
ENTERTAINMENT
First off - the Royal Theatre features
amazing shows including We Will Rock
You - the Olivier Award-winning musical
and The Gift - an exclusive production
taking you on a musical journey of fantasy
and illusion. Two70SM is an amazing and
vast panoramic lounge at the back of
the ship with ever-changing video walls,
dancing robo-screens and a variety of
stages which rise and fall. Performers
appear out of no-where to give you
an all-together captivating, weird and
fantastical show which is Spectra's
Cabaret - exclusive to this ship. This ship
does not have a nightclub instead it is
the plush and spacious Music Hall on two
floors complete with pool tables and live
band stage for tribute acts; perfect for live
entertainment and late night dancing.
There are three distinct pool areas on
board. Families come together around
the main pool with its huge video screen,
high level band stand and separate
H2O Zone complete with wave motion
paddling pool. Then there is the indoor
pool area and the amazing separate
solarium at the front of the ship with three
cascading bathing pools, panoramic
views and two huge whirlpools.
Finally this section would not be complete
without mentioning the chance to skydive
at RipcordSM by iFly®, surf on Flowrider®,
enjoy gravity defying rides on North
StarSM and have a laugh in SeaPlexSM with
bumper cars and the flying trapeze!
INTRODUCING
ROYAL CARIBBEAN
ANTHEM OF THE SEAS
SM
The latest and most modern hi-tech ship afloat!
On 20th April 2015 Royal Caribbean's latest ship Anthem of the
SeasSM was officially launched and named in Southampton before
beginning her maiden season ready to delight British cruisers in
search of the good life without having to fly. This latest and most
modern hi-tech ship afloat is simply brimming with entertainment
and dining options to give you a cruise you will not forget. Free
Wi-Fi, a completely different approach to dining and an amazing
range of unique features make this ship stand out from the rest.
FACTS AT A GLANCE:
• 168,667 Gross Tons
• 1,141 Feet Long
• 136 Feet Wide
• 16 Passenger Decks
• 4,180 Passengers (Double occupancy)
• 1,600 Crew
• 2,090 Staterooms
18