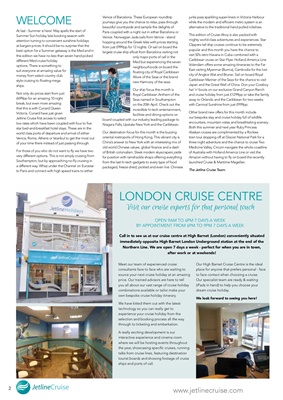 2
Call in to see us at our cruise centre at High Barnet (London) conveniently situated
immediately opposite High Barnet London Underground station at the end of the
Northern Line. We are open 7 days a week - perfect for when you are in town,
after work or at weekends!
Meet our team of experienced cruise
consultants face to face who are waiting to
source your next cruise holiday at an amazing
price. Our trained advisors are here to tell
you all about our vast range of cruise holiday
combinations available or tailor make your
own bespoke cruise holiday itinerary.
We have kitted them out with the latest
technology so you can really get to
experience your cruise holiday from the
selection and booking process all the way
through to ticketing and embarkation.
A really exciting development is our
interactive experience and cinema room
where we will be hosting events throughout
the year, showcasing specific cruises, running
talks from cruise lines, featuring destination
tourist boards and showing footage of cruise
ships and ports of call.
Our High Barnet Cruise Centre is the ideal
place for anyone that prefers personal - face
to face contact when choosing a cruise.
Our specialist team are ready & waiting
(iPads in hand) to help you choose your
dream cruise holiday.
We look forward to seeing you here!
OPEN 9AM TO 6PM 7 DAYS A WEEK
BY APPOINTMENT FROM 6PM TO 9PM 7 DAYS A WEEK
LONDON CRUISE CENTRE
Visit our cruise experts for that personal touch
WELCOME
At last - Summer is here! May spells the start of
Summer Sun holiday late booking season with
attention turning to convenient sunshine holidays
at bargain prices. It should be no surprise that the
best option for a Summer getaway is the Med and in
this edition we have no less than seven hand-picked
different Med cruise holiday
options. There is something to
suit everyone at amazing value for
money from select country club
style cruising to floating mega
ships.
Not only do prices start from just
£699pp for an amazing 10 night
break; but even more amazing
that this is with Cunard Queen
Victoria. Cunard have just given
Jetline Cruise first access to select
low rates which have been coupled with four to five
star bed-and-breakfast hotel stays. These are in the
world class ports of departure and arrival of either
Venice, Rome, Athens or Istanbul to get the most out
of your time there instead of just passing through.
For those of you who do not want to fly we have two
very different options. This is not simply cruising from
Southampton; but by approaching no-fly cruising in
a different way. Whizz under the Channel on Eurostar
to Paris and connect with high speed trains to either
Venice of Barcelona. These European roundtrip
journeys give you the chance to relax, pass through
beautiful countryside and sample the delights of
Paris coupled with a night out in either Barcelona or
Venice. Norwegian Jade sails from Venice - island
hopping around the Greek Isles with prices starting
from just £999pp for 12 nights. Or sail on board the
largest cruise ship afloat from Barcelona visiting not
only major ports of call in the
Med but experiencing the seven
neighbourhoods on board the
floating city of Royal Caribbean
Allure of the Seas or the brand
new Harmony of the seas.
Our ship focus this month is
Royal Caribbean Anthem of the
Seas named in Southampton
on the 20th April. Check out the
incredible hi-tech entertainment,
facilities and dining options on
board coupled with our industry leading package to
Niagara Falls, Upstate New York and the Caribbean.
Our destination focus for this month is the buzzing
oriental metropolis of Hong Kong. This vibrant city is
China's answer to New York with an interesting mix of
old world Chinese values, global finance and a dash
of British colonialism. Sleek modern skyscrapers jostle
for position with ramshackle shops offering everything
from the last hi-tech gadgets to every type of food
packaged, freeze dried, pickled and even live. Chinese
junks pass sparkling super-liners in Victoria Harbour
while the modern and efficient metro system is an
alternative to the traditional hand pulled rickshaw.
This edition of Cruise Ahoy is also packed with
mighty world-class adventures and experiences. Star
Clippers tall ship cruises continue to be extremely
popular and this month you have the chance to
visit 50's retro Havana in Cuba combined with a
Caribbean cruise on Star Flyer. Holland America Line
Volendam offers some amazing itineraries to the Far
East visiting Myanmar (Burma), Cambodia for the lost
city of Angkor Wat and Brunei. Sail on board Royal
Caribbean Mariner of the Seas for the chance to visit
Japan and the Great Wall of China. Don your Cowboy
hat 'n' boots on our exclusive Grand Canyon Ranch
and cruise holiday from just £1299pp or take the family
away to Orlando and the Caribbean for two weeks
with Carnival Sunshine from just £999pp.
Other brand new offers for this month include
our bespoke stay and cruise holiday full of wildlife
encounters, mountain vistas and breathtaking scenery.
Both this summer and next year Ruby Princess
Alaskan cruises are complimented by a Rockies
train tour stopping off at Glacier National Park for a
three night adventure and the chance to cruise Two
Medicine Valley. Circum-navigate the whole coastline
of Australia with Holland America Line or visit the
Amazon without having to fly on board the recently
launched Cruise & Maritime Magellan.
The Jetline Cruise Team.