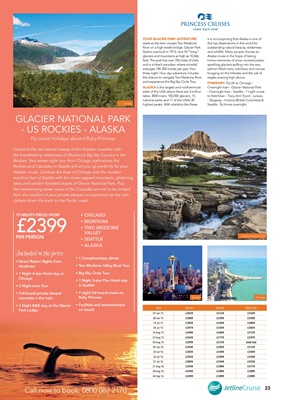 GLACIER NATIONAL PARK
- US ROCKIES - ALASKA
Fly cruise holidays aboard Ruby Princess
Combine the raw natural beauty of the Alaskan coastline with
the breathtaking wilderness of Montana's Big Sky Country in the
Rockies. Your seven night tour from Chicago right across the
Rockies and Cascades to Seattle will set you up perfectly for your
Alaskan cruise. Contrast the buzz of Chicago and the modern
maritime feel of Seattle with the snow capped mountains, glistening
lakes and verdant forested slopes of Glacier National Park. Plus
the mesmerising dawn views of the Cascades are not to be missed
from the comfort of your private sleeper compartment as the train
clatters down the track to the Pacific coast.
Included in the price:
• Direct Return flights from
Heathrow
• 1 Night 4-star Hotel stay in
Chicago
• 2 Night train Tour
• Full-board private sleeper
roomette n the train
• 3 Night B&B stay at the Glacier
Park Lodge
15 NIGHTS PRICES FROM
£2399PER PERSON
YOUR GLACIER PARK ADVENTURE
starts as the train crosses Two Medicine
River on a high trestle bridge. Glacier Park
Station was built in 1913, near 50 "living"
glaciers and mountains as high as 10,466
feet. The park has over 700 miles of trails
and is a hiker's paradise- where snowfall
averages 100-200 inches per year. Your
three night / four day adventure includes
the chance to navigate Two Medicine River
and experience the Big Sky Circle Tour.
ALASKA is the largest and northernmost
state of the USA where there are 3 million
lakes, 3000 rivers, 100,000 glaciers, 15
national parks and 17 of the USA's 20
highest peaks. With statistics like these
it is not surprising that Alaska is one of
the top destinations in the world for
outstanding natural beauty, wilderness
and wildlife. Many people choose an
Alaska cruise in the hope of taking
home memories of snow covered peaks,
sparkling glaciers spilling into the sea,
salmon filled rivers, wild bear and moose
foraging on the hillsides and the call of
eagles soaring high above.
ITINERARY: Fly UK to Chicago -
Overnight train - Glacier National Park
- Overnight train - Seattle - 7 night cruise
to Ketchikan - Tracy Arm Fjord - Juneau
- Skagway - Victoria (British Columbia) &
Seattle - fly home overnight.
23
Call now to book: 0800 082 2170
Juneau
• CHICAGO
• MONTANA
• TWO MEDICINE
VALLEY
• SEATTLE
• ALASKA
Date Interior Balcony Mini Suite
07 Jun 15 £2659 £3129 £3349
28 Jun 15 £2989 £3399 £3499
19 Jul 15 £2999 £3399 £3699
26 Jul 15 £2979 £3359 £3659
16 Aug 15 £2499 £2849 £3139
23 Aug 15 £2449 £2779 £2979
30 Aug 15 £2399 £2729 Sold Out
05 Jun 16 £2499 £2929 £3139
03 Jul 16 £2939 £3399 £3599
24 Jul 16 £2939 £3399 £3599
31 Jul 16 £2899 £3349 £3539
21 Aug 16 £2599 £2999 £3179
28 Aug 16 £2499 £2899 £3099
04 Sep 16 £2499 £2899 £3099
Seattle Chicago
Glacier National Park
• 1 Complimentary dinner
• Two Medicine Valley Boat Tour
• Big Sky Circle Tour
• 1 Night 3-star Plus Hotel stay
in Seattle
• 7 night full board cruise on
Ruby Princess
• Facilities and entertainment
on board