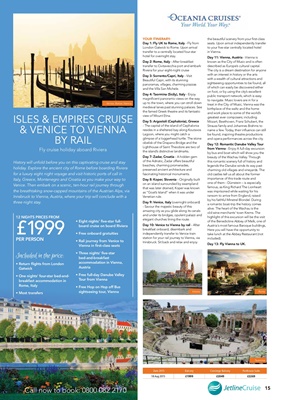 15
Call now to book: 0800 082 2170
Vienna Rome
ISLES & EMPIRES CRUISE
& VENICE TO VIENNA
BY RAIL
Fly cruise holiday aboard Riviera
History will unfold before you on this captivating cruise and stay
holiday. Explore the ancient city of Rome before boarding Riviera
for a luxury eight night voyage and visit historic ports of call in
Italy, Greece, Montenegro and Croatia as you make your way to
Venice. Then embark on a scenic, ten-hour rail journey through
the breathtaking snow-capped mountains of the Austrian Alps, via
Innsbruck to Vienna, Austria, where your trip will conclude with a
three night stay.
Included in the price:
• Return flights from London
Gatwick
• One nights' four-star bed-andbreakfast
accommodation in
Rome, Italy
• Most transfers
12 NIGHTS PRICES FROM
£1999PER PERSON
YOUR ITINERARY:
Day 1: Fly UK to Rome, Italy - Fly from
London Gatwick to Rome. Upon arrival
transfer to a centrally located four-star
hotel for overnight stay.
Day 2: Rome, Italy - After breakfast
transfer to Civitavecchia port and embark
Riviera for your eight-night cruise
Day 3: Sorrento/Capri, Italy - Visit
Beautiful Capri, with its stunning
panoramas, villages, charming piazzas
and the Villa San Michele.
Day 4: Taormina (Sicily), Italy - Enjoy
magnificent panoramic views on the way
up to the town, where you can stroll down
medieval lanes past stunning palaces. See
the famed Greek theatre and its fantastic
view of Mount Etna.
Day 5: Argostoli (Cephalonia), Greece
- The capital of the island of Cephalonia
resides in a sheltered bay along Koutavos
Lagoon, where you might catch a
glimpse of a loggerhead turtle. The stone
obelisk of the Drapano Bridge and the
Lighthouse of Saint Theodore are two of
the island's distinctive landmarks.
Day 7: Zadar, Croatia - A hidden gem
of the Adriatic, Zadar offers beautiful
beaches, charming promenades,
preserved ancient architecture and
fascinating historical monuments.
Day 8: Koper, Slovenia - Originally built
on an island surrounded by swampland
that was later drained, Koper was known
as "Goat's Island" when it was under
Venetian rule.
Day 9: Venice, Italy (overnight onboard)
- Savour the majestic beauty of this
amazing city as you glide along its canals
and under its bridges, opulent palazzi and
elegant churches lining the route.
Day 10: Venice to Vienna by rail - After
breakfast onboard, disembark and
independently transfer to Venice train
station for your rail journey to Vienna, via
Innsbruck. Sit back and relax and enjoy
the beautiful scenery from your first-class
seats. Upon arrival independently transfer
to your five-star centrally located hotel
in Vienna.
Day 11: Vienna, Austria - Vienna is
known as the City of Music and is often
described as Europe's cultural capital.
The city is a dream destination for anyone
with an interest in history or the arts
with a wealth of cultural attractions and
sightseeing opportunities to be found, all
of which can easily be discovered either
on foot, or by using the city's excellent
public transport network, which is easy
to navigate. Music lovers are in for a
treat in the City of Music, Vienna was the
birthplace of the waltz and the home
and work place to some of the world's
greatest ever composers; including
Mozart, Beethoven, Franz Schubert, the
Strauss family and Johannes Brahms to
name a few. Today, their influence can still
be found, inspiring theatre productions
and opera performances across the city.
Day 12: Romantic Danube Valley Tour
from Vienna - Enjoy A full-day excursion
by bus and boat which will show you the
beauty of the Wachau Valley. Through
this romantic scenery full of history and
legends the Danube winds its way past
charming old villages and vineyards. The
old castles tell us all about the former
importance of this trade route and
one of them - Dürnstein - is especially
famous, as King Richard The Lionheart
was imprisoned while waiting for his
ransom to arrive from England, raised
by his faithful Minstrel Blondel. During
a romantic boat-trip the history comes
alive. The heart of the Wachau is the
old wine-merchants' town Krems. The
highlight of this excursion will be the visit
of the Benedictine Abbey of Melk, one of
Austria´s most famous Baroque buildings,
Here you will have the opportunity to
take lunch at the Abbey Restaurant (not
included).
Day 13: Fly Vienna to UK.
15
Call now to book: 0800 082 2170
Venice. Below: Vienna.
Date 2015 Balcony Concierge Balcony Penthouse Suite
18 Aug 2015 £1999 £2049 £2269
Taormina
• Eight nights' five-star fullboard
cruise on board Riviera
• Free onboard gratuities
• Rail journey from Venice to
Vienna in first-class seats
• Three nights' five-star
bed-and-breakfast
accommodation in Vienna,
Austria
• Free full-day Danube Valley
Tour from Vienna
• Free Hop on Hop off Bus
sightseeing tour, Vienna