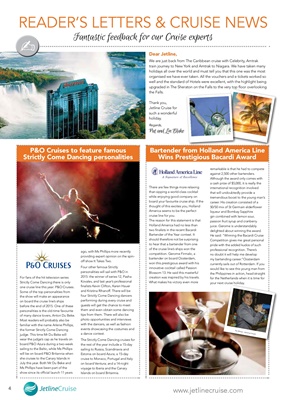 4 READER'S LETTERS & CRUISE NEWS
Fantastic feedback for our Cruise experts
Dear Jetline,
We are just back from The Caribbean cruise with Celebrity, Amtrak
train journey to New York and Amtrak to Niagara. We have taken many
holidays all over the world and must tell you that this one was the most
organised we have ever taken. All the vouchers and e tickets worked so
well and the standard of Hotels were excellent, with the highlight being
upgraded in The Sheraton on the Falls to the very top floor overlooking
the Falls.
Thank you,
Jetline Cruise for
such a wonderful
holiday.
Regards,
Pat and Lin Blake
P&O Cruises to feature famous
Strictly Come Dancing personalities
For fans of the hit television series
Strictly Come Dancing there is only
one cruise line this year: P&O Cruises.
Some of the top personalities from
the show will make an appearance
on board the cruise line's ships
before the end of 2015. One of these
personalities is the old-time favourite
of many dance lovers, Anton Du Beke.
Most readers will probably also be
familiar with the name Arlene Phillips,
the former Strictly Come Dancing
judge. This time Mr Du Beke will
wear the judge's cap as he travels on
board P&O Azura during a two-week
sailing to the Baltic, while Ms Phillips
will be on board P&O Britannia when
she cruises to the Canary Islands in
July this year. Both Mr Du Beke and
Ms Phillips have been part of the
show since its official launch 11 years
Bartender from Holland America Line
Wins Prestigious Bacardi Award
There are few things more relaxing
than sipping a world-class cocktail
while enjoying good company on
board your favourite cruise ship. If the
thought of this excites you, Holland
America seems to be the perfect
cruise line for you.
The reason for this statement is that
Holland America had no less than
two finalists in the recent Bacardi
Bartender of the Year contest. It
should therefore not be surprising
to hear that a bartender from one
of the cruise line's ships won the
competition. Gerome Firmalo, a
bartender on board Oosterdam,
won this prestigious award with his
innovative cocktail called Passion
Blossom 13. He said this masterful
creation was inspired by his travels.
What makes his victory even more
remarkable is that he had to compete
against 2,500 other bartenders.
Although the award only comes with
a cash prize of $5,000, it is really the
international recognition involved
that will undoubtedly provide a
tremendous boost to the young man's
career. His creation consisted of a
50/50 mix of St Germain elderflower
liqueur and Bombay Sapphire
gin combined with lemon sour,
passion fruit syrup and cranberry
juice. Gerome is understandably
delighted about winning the award.
He said: "Winning the Bacardi Cruise
Competition gives me great personal
pride with the added kudos of such
professional recognition. There's
no doubt it will help me develop
my bartending career."Oosterdam
currently sails out of Rotterdam. If you
would like to see this young man from
the Philippines in action, head straight
for the Netherlands when it is time for
your next cruise holiday.
ago, with Ms Phillips more recently
providing expert opinion on the spinoff
show It Takes Two.
Four other famous Strictly
personalities will sail with P&O in
2015: the winner of series 12, Pasha
Kovalev, and last year's professional
finalists Kevin Clifton, Karen Hauer
and Kristina Rihanoff. There will be
four Strictly Come Dancing dancers
performing during every cruise and
guests will get the chance to meet
them and even obtain some dancing
tips from them. There will also be
photo opportunities and interviews
with the dancers, as well as fashion
events showcasing the costumes and
a dance contest.
The Strictly Come Dancing cruises for
the rest of the year include a 15-day
sailing to Russia, Scandinavia and
Estonia on board Azura; a 15-day
cruise to Monaco, Portugal and Italy
on board Ventura; and a 14-night
voyage to Iberia and the Canary
Islands on board Britannia.
The Winner - Gerome Firmalo