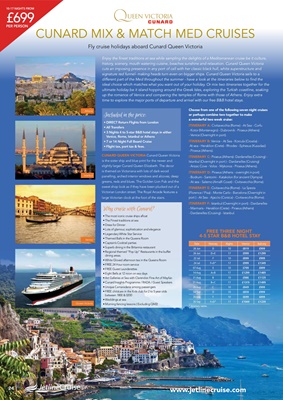 Enjoy the finest traditions at sea while sampling the delights of a Mediterranean cruise be it culture,
history, scenery, mouth watering cuisine, beaches sunshine and relaxation. Cunard Queen Victoria
cuts an imposing presence in any port of call with her classic black hull, white superstructure and
signature red funnel- making heads turn even on bigger ships. Cunard Queen Victoria sails to a
different part of the Med throughout the summer - have a look at the itineraries below to find the
ideal choice which matches what you want out of your holiday. Or mix two itineraries together for the
ultimate holiday be it island hopping around the Greek Isles, exploring the Turkish coastline, soaking
up the romance of Venice and comparing the temples of Rome with those of Athens. Enjoy extra
time to explore the major ports of departure and arrival with our free B&B hotel stays.
Date Itinerary Nights Interior Balcony
26 Jun D 10 £819 £999
26 Jun D+E 17 £999 £1299
22 Jul F 10 £899 £999
24 Jul F+D* 17 £999 £1349
07 Aug E 10 £799 £899
14 Aug A+B 17 £1299 £1489
21 Aug B 10 £986 £1129
21 Aug B+C 17 £1319 £1499
28 Aug C 10 £849 £999
04 Sep D 10 £859 £999
30 Sep F 10 £699 £899
30 Sep F+D* 17 £1049 £1239
* Itinerary varies.
Athens
Istanbul
Venice
Queen Victoria
10-17 NIGHTS FROM
£699PER PERSON
CUNARD QUEEN VICTORIA Cunard Queen Victoria
is the sister ship and blue print for the newer and
slightly larger Cunard Queen Elizabeth. The decor
is themed on Victoriana with lots of dark wood
panelling, arched interior windows and alcoves; deep
greens, reds and blues. The Golden Lion Pub and the
sweet shop look as if they have been plucked out of a
Victorian London street. The Royal Arcade features a
large Victorian clock at the foot of the stairs.
Included in the price:
• DIRECT Return Flights from London
• All Transfers
• 3 Nights 4 to 5-star B&B hotel stays in either
Venice, Rome, Istanbul or Athens
• 7 or 14 Night Full Board Cruise
• Flight tax, port tax & fees.
24
Why cruise with Cunard?
• The most iconic cruise ships afloat
• The Finest traditions at sea
• Dress for Dinner
• Lots of glamour, sophistication and elegance
• Legendary White Star Service
• Themed Balls in the Queens Room
• Captain's Cocktail parties
• Superb dining in the Britannia restaurant
• Regional themed "Pop Up" Restaurants in the buffet
dining areas.
• White Gloved afternoon tea in the Queens Room
• FREE 24 Hour room service
• FREE Guest Launderettes
• Eight Bells at 12 noon on sea days
• Art Galleries at Sea with Clarendon Fine Art of Mayfair.
• Cunard Insights Programme / RADA / Guest Speakers
• Unique Camaraderie among passengers
• FREE childcare in the Kids club for 2 to 5 year olds
between 1800 & 0200
• Weddings at sea
• Morning fencing lessons ( Excluding QM2)
Choose from one of the following seven night cruises
or perhaps combine two together to make
a wonderful two week cruise:
ITINERARY A: Civitavecchia (Rome) - At Sea - Corfu
- Kotor (Montenegro) - Dubrovnik - Piraeus (Athens)
- Venice (Overnight in port).
ITINERARY B: Venice - At Sea - Korcula (Croatia) -
At sea - Heraklion (Crete) - Rhodes - Ephesus (Kusadasi)
- Piraeus (Athens).
ITINERARY C: Piraeus (Athens)- Dardanelles (Cruising) -
Istanbul (Overnight in port ) - Dardanelles (Cruising)
- Anzac Cove - Volos - Mykonos - Piraeus (Athens).
ITINERARY D: Piraeus (Athens - overnight in port)
- Bodrum - Santorini - Katakolon (for ancient Olympia)
- At sea - Salerno (Amalfi Coast) - Civitavecchia (Rome).
ITINERARY E: Civitavecchia (Rome) - La Spezia
(Florence / Pisa) - Monte Carlo - Barcelona (Overnight in
port ) - At Sea - Ajaccio (Corsica) - Civitavecchia (Rome).
ITINERARY F: Istanbul (Overnight in port) - Dardanelles
- Marmaris - Heraklion (Crete) - Piraeus (Athens)
- Dardanelles (Cruising) - Istanbul.
CUNARD MIX & MATCH MED CRUISES
Fly cruise holidays aboard Cunard Queen Victoria FREE THREE NIGHT
4-5 STAR B&B HOTEL STAY