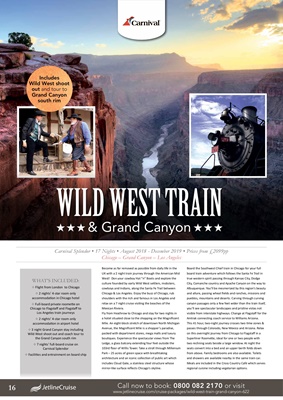 Become as far removed as possible from daily life in the
UK with a 2 night train journey through the American Mid
West! Don your cowboy Hat "n" Boots and explore the
culture founded by early Wild West settlers, mobsters,
cowboys and Indians, along the Santa Fe Trail between
Chicago & Los Angeles. Enjoy the buzz of Chicago, rub
shoulders with the rich and famous in Los Angeles and
relax on a 7 night cruise visiting the beaches of the
Mexican Riviera.
Fly from Heathrow to Chicago and stay for two nights in
a hotel situated close to the shopping on the Magnificent
Mile. An eight-block stretch of downtown North Michigan
Avenue, the Magnificent Mile is a shopper's paradise,
packed with department stores, mega malls and luxury
boutiques. Experience the spectacular views from The
Ledge, a glass balcony extending four feet outside the
103rd floor of Willis Tower. Take a stroll through Millenium
Park - 25 acres of green space with breathtaking
architecture and an iconic collection of public art which
includes Cloud Gate, a stainless steel structure whose
mirror-like surface reflects Chicago's skyline.
Board the Southwest Chief train in Chicago for your full
board train adventure which follows the Santa Fe Trail in
true western spirit passing through Kansas City, Dodge
City, Comanche country and Apache Canyon on the way to
Albuquerque. You'll be mesmerized by this region's beauty
and allure, passing wheat fields and ranches, missions and
pueblos, mountains and deserts. Carving through curving
canyon passages only a few feet wider than the train itself,
you'll see spectacular landscapes and pristine vistas not
visible from interstate highways. Change at Flagstaff for the
Amtrak connecting coach service to Williams Arizona.
This 41 hour, two-night journey crosses two time zones &
passes through Colorado, New Mexico and Arizona. Relax
on this overnight journey from Chicago to Flagstaff in a
Superliner Roomette, ideal for one or two people with
two reclining seats beside a large window. At night the
seats convert into a bed and an upper berth folds down
from above. Family bedrooms are also available. Toilets
and showers are available nearby in the same train car.
Meals are included in the Cross Country Café which serves
regional cuisine including vegetarian options.
Carnival Splendor • 17 Nights • August 2018 - December 2019 • Prices from £2099pp
Chicago - Grand Canyon - Los Angeles
WHAT'S INCLUDED:
✥ Flight from London to Chicago
✥ 2 nights' 4-star room only
accommodation in Chicago hotel
✥ Full-board private roomette on
Chicago to Flagstaff and Flagstaff to
Los Angeles train journeys
✥ 2 nights' 4-star room only
accommodation in airport hotel
✥ 3 night Grand Canyon stay including
Wild West shoot out and coach tour to
the Grand Canyon south rim
✥ 7 nights' full-board cruise on
Carnival Splendor
✥ Facilities and entrainment on board ship
Includes
Wild West shoot
out and tour to
Grand Canyon
south rim
WILD WEST TRAIN
& Grand Canyon
16 Call now to book: 0800 082 2170 or visit
www.jetlinecruise.com/cruise-packages/wild-west-train-grand-canyon-622