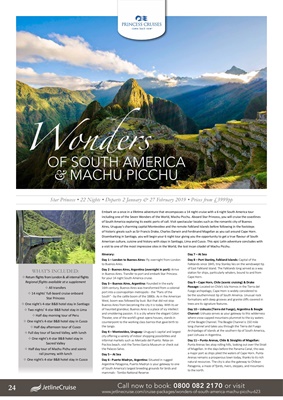 Itinerary:
Day 1 - London to Buenos Aires: Fly overnight from London
to Buenos Aires.
Day 2 - Buenos Aires, Argentina (overnight in port): Arrive
in Buenos Aires. Transfer to port and embark Star Princess
for your 14 night South America cruise.
Day 3 - Buenos Aires, Argentina: Founded in the early
16th century, Buenos Aires was transformed from a colonial
port into a cosmopolitan metropolis - the "Paris of the
South" - by the cattle boom of the 1880s. As in the American
West, boom was followed by bust. But that did not stop
Buenos Aires from becoming the city it is today. With its air
of haunted grandeur, Buenos Aires is a place of icy intellect
and smoldering passion. It is a city where the elegant Colon
Theater, one of the world's great opera houses, stands in
counterpoint to the working class barrios that gave birth to
the tango.
Day 4 - Montevideo, Uruguay: Uruguay's capital and largest
city offering a variety of indoor shopping possibilities and
informal markets such as Mercado del Puerto. Relax on
Pocitos beach, visit the Torres Garcia Museum or check out
the Palazzo Salvo.
Day 5 - At Sea
Day 6 - Puerto Madryn, Argentina: Situated in rugged
Argentine Patagonia, Puerto Madryn is your gateway to one
of South America's largest breeding grounds for birds and
mammals - Tombo National Reserve
Star Princess • 22 Nights • Departs 2 January & 27 February 2019 • Prices from £3999pp
WHAT'S INCLUDED:
✥ Return flights from London & all internal flights
Regional flights available at a supplement
✥ All transfers
✥ 14 nights' full-board cruise onboard
Star Princess
✥ One night's 4-star B&B hotel stay in Santiago
✥ Two nights' 4-star B&B hotel stay in Lima
✥ Half day morning tour of Peru
✥ One night's 4-star B&B hotel stay in Cusco
✥ Half day afternoon tour of Cusco
✥ Full day tour of Sacred Valley, with lunch
✥ One night's 4-star B&B hotel stay in
Sacred Valley
✥ Half day tour of Machu Pichu and scenic
rail journey, with lunch
✥ One night's 4-star B&B hotel stay in Cusco
Embark on a once in a lifetime adventure that encompasses a 14 night cruise with a 6 night South America tour
including one of the Seven Wonders of the World, Machu Picchu. Aboard Star Princess, you will cruise the coastlines
of South America exploring its exotic ports of call. Visit spectacular locales such as the romantic city of Buenos
Aires, Uruguay's charming capital Montevideo and the remote Falkland Islands before following in the footsteps
of historic greats such as Sir Francis Drake, Charles Darwin and Ferdinand Magellan as you sail around Cape Horn.
Disembarking in Santiago, you will begin your 6 night tour giving you the opportunity to get a true flavour of South
American culture, cuisine and history with stays in Santiago, Lima and Cusco. This epic Latin adventure concludes with
a visit to one of the most impressive sites in the World, the lost Incan citadel of Machu Picchu.
Day 7 - At Sea
Day 8 - Port Stanley, Falkland Islands: Capital of the
Falklands since 1845, tiny Stanley lies on the windswept tip
of East Falkland Island. The Falklands long served as a way
station for ships, particularly whalers, bound to and from
Cape Horn.
Day 9 - Cape Horn, Chile (scenic cruising) & Drake
Passage: Located on Chile's Isla Hornos in the Tierra del
Fuego archipelago, Cape Horn is widely considered to
be the southernmost tip of South America. Unusual rock
formations with deep grooves and granite cliffs covered in
trees are its signature features.
Day 10 - Ushuaia (Tierra del Fuego), Argentina & Beagle
Channel: Ushuaia serves as your gateway to this wilderness
where snow-capped mountains plummet to the icy waters
of the Beagle Channel. The Beagle Channel is 150 mile
long channel and takes you through the Tierra del Fuego
Archipelago of islands at the southern tip of South America,
past Ushuaia in Argentina.
Day 11 - Punta Arenas, Chile & Straights of Magellan:
Punta Arenas lies atop rolling hills, looking out over the Strait
of Magellan. In the days before the Panama Canal, this was
a major port as ships plied the waters of Cape Horn. Punta
Arenas remains a prosperous town today, thanks to its rich
natural resources. The city is also the gateway to Chilean
Patagonia, a maze of fjords, rivers, steppes, and mountains
to the north.
Wonders
OF SOUTH AMERICA
& MACHU PICCHU
24 Call now to book: 0800 082 2170 or visit
www.jetlinecruise.com/cruise-packages/wonders-of-south-america-machu-picchu-623