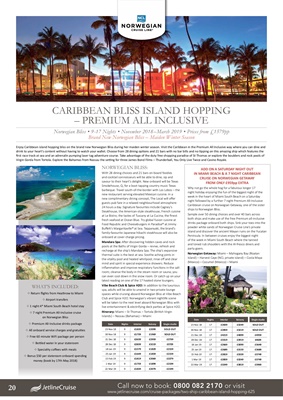 Enjoy Caribbean island hopping bliss on the brand new Norwegian Bliss during her maiden winter season. Visit the Caribbean in the Premium All Inclusive way where you can dine and
drink to your heart's content without having to watch your wallet. Choose from 28 dining options and 21 bars with no bar bills and no tipping on this amazing ship which features the
first race track at sea and an adrenalin pumping laser tag adventure course. Take advantage of the duty free shopping paradise of St Thomas or explore the boulders and rock pools of
Virgin Gorda from Tortola. Explore the Bahamas from Nassau the setting for three James Bond Films - Thunderball, You Only Live Twice and Casino Royale.
NORWEGIAN BLISS:
With 28 dining choices and 21 bars on-board foodies
and cocktail connoisseurs will be able to dine, sip and
savour to their heart's delight. New onboard will be Texas
Smokehouse, Q, for a boot tapping country music Texas
barbeque. Travel south-of-the-border with Los Lobos - the
new restaurant serving elevated Mexican cuisine. In a
new complimentary dining concept, The Local will offer
guests pub fare in a relaxed neighbourhood atmosphere
24 hours a day. Signature favourites include Cagney's
Steakhouse, the American-style steakhouse, French cuisine
at Le Bistro; the tastes of Tuscany at La Cucina; the finest
fresh seafood at Ocean Blue. Try global fusion cuisine at
Food Republic and Cheeseburgers in Paradise® at Jimmy
Buffett's Margaritaville® at Sea. Teppanyaki, the brand's
family-favourite Japanese hibachi steakhouse will also be
onboard at cover charge pricing.
Mandara Spa: After discovering hidden caves and rock
pools at the Baths of Virgin Gorda - revive, refresh and
recharge at the ship's Mandara Spa. The ship's expansive
thermal suite is the best at sea. Soothe aching joints in
the vitality pool and heated whirlpool; rinse off and clear
mind and spirit in special experience showers. Reduce
inflammation and improve respiratory functions in the salt
room; cleanse the body in the steam room or sauna; you
can even cool down in the snow room. Or catch up on your
latest reading on one of the 17 heated stone loungers.
Vibe Beach Club & Spice H2O: In addition to the luxurious
spa, adults will be able to unwind in two private lounge
spaces while cruising aboard Norwegian Bliss at Vibe Beach
Club and Spice H2O. Norwegian's vibrant nightlife scene
will be taken to the next level aboard Norwegian Bliss with
live entertainment & electrifying deck parties at Spice H2O.
Itinerary: Miami - St Thomas - Tortola (British Virgin
Islands) - Nassau (Bahamas) - Miami
ADD ON A SATURDAY NIGHT OUT
IN MIAMI BEACH & A 7 NIGHT CARIBBEAN
CRUISE ON NORWEGIAN GETAWAY
FROM ONLY £959pp EXTRA
Why not go the whole hog for a fabulous longer 17
night holiday enjoying the fun of the biggest night of the
week in the heart of Miami South Beach on a Saturday
night followed by a further 7 night Premium All-Inclusive
Caribbean cruise on Norwegian Getaway, one of the sister
ships to Norwegian Bliss.
Sample over 50 dining choices and over 40 bars across
both ships and make use of the free Premium all-inclusive
drinks package onboard both ships. Sink your toes into the
powder white sands of Norwegian Cruise Line's private
island and discover the ancient Mayan ruins on the Yucatan
Peninsula. In between cruises enjoy the biggest night
of the week in Miami South Beach where the tanned
and toned rub shoulders with the Al-fresco diners and
party goers.
Norwegian Getaway: Miami - Mahogany Bay (Roatan
Island) - Harvest Caye (NCL private island) - Costa Maya
(Mexico) - Cozumel (Mexico) - Miami
CARIBBEAN BLISS ISLAND HOPPING
- PREMIUM ALL INCLUSIVE
Norwegian Bliss • 9-17 Nights • November 2018-March 2019 • Prices from £1579pp
Brand New Norwegian Bliss - Maiden Winter Season
Date Nights Interior Balcony Single studio
23 Nov 18 9 £1839 £2099 SOLD OUT
30 Nov 18 9 £1739 £1969 SOLD OUT
21 Dec 18 9 £2639 £2959 £2739
28 Dec 18 9 £2839 £3219 £3729
18 Jan 19 9 £1579 £1829 £2159
25 Jan 19 9 £1649 £1859 £2159
15 Feb 19 9 £1819 £2069 £2279
1 Mar 19 9 £1759 £1899 £2199
22 Mar 19 9 £1839 £2079 £2199
Date Nights Interior Balcony Single studio
23 Nov 18 17 £2839 £3249 SOLD OUT
30 Nov 18 17 £2859 £3219 SOLD OUT
21 Dec 18 17 £4219 £4899 £4959
28 Dec 18 17 £3319 £3919 £4639
18 Jan 19 17 £2669 £3099 £3649
25 Jan 19 17 £2689 £3159 £3689
15 Feb 19 17 £2819 £3339 £3749
1 Mar 19 17 £2859 £3249 £3749
22 Mar 19 17 £3249 £3819 £3969
WHAT'S INCLUDED:
✥ Return flights from Heathrow to Miami
✥ Airport transfers
✥ 1 night 4* Miami South Beach hotel stay
✥ 7 night Premium All-Inclusive cruise
on Norwegian Bliss
✥ Premium All-Inclusive drinks package
✥ All onboard service charges and gratuities
✥ Free 60 minute WiFi package per person
✥ Bottled water in your stateroom
✥ Speciality coffees with meals
✥ Bonus $50 per stateroom onboard spending
money (book by 17th May 2018)
20 Call now to book: 0800 082 2170 or visit
www.jetlinecruise.com/cruise-packages/two-ship-caribbean-island-hopping-625