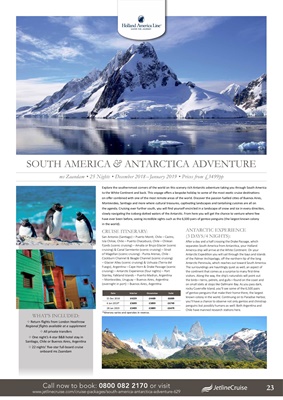 WHAT'S INCLUDED:
✥ Return flights from London Heathrow
Regional flights available at a supplement
✥ All private transfers
✥ One night's 4-star B&B hotel stay in
Santiago, Chile or Buenos Aires, Argentina
✥ 22 nights' five-star full-board cruise
onboard ms Zaandam
Explore the southernmost corners of the world on this scenery rich Antarctic adventure taking you through South America
to the White Continent and back. This voyage offers a bespoke holiday to some of the most exotic cruise destinations
on offer combined with one of the most remote areas of the world. Discover the passion fuelled cities of Buenos Aires,
Montevideo, Santiago and more where cultural treasures, captivating landscapes and tantalising cuisines are all on
the agenda. Cruising ever further south, you will find yourself encircled in a landscape of snow and ice in every direction,
slowly navigating the iceberg-dotted waters of the Antarctic. From here you will get the chance to venture where few
have ever been before, seeing incredible sights such as the 6,500 pairs of gentoo penguins (the largest known colony
in the world).
Date Interior Oceanview Suite
15 Dec 2018 £4229 £4489 £6889
6 Jan 2019* £3699 £3899 £6749
28 Jan 2019 £3499 £3889 £6479
*Itinerary varies and operates in reverse.
CRUISE ITINERARY:
San Antonio (Santiago) - Puerto Montt, Chile - Castro,
Isla Chiloe, Chile - Puerto Chacabuco, Chile - Chilean
Fjords (scenic cruising) - Amalia or Brujo Glacier (scenic
cruising) & Canal Sarmiento (scenic cruising) - Strait
of Magellan (scenic cruising) - Punta Arenas, Chile -
Cockburn Channel & Beagle Channel (scenic cruising)
- Glacier Alley (scenic cruising) & Ushuaia (Tierra del
Fuego), Argentina - Cape Horn & Drake Passage (scenic
cruising) - Antarctic Experience (four nights) - Port
Stanley, Falkland Islands - Puerto Madryn, Argentina
- Montevideo, Uruguay - Buenos Aires, Argentina
(overnight in port) - Buenos Aires, Argentina
ANTARCTIC EXPERIENCE
(3 DAYS/4 NIGHTS):
After a day and a half crossing the Drake Passage, which
separates South America from Antarctica, your Holland
America ship will arrive at the White Continent. On your
Antarctic Expedition you will sail through the bays and islands
of the Palmer Archipelago, off the northern tip of the long
Antarctic Peninsula, which reaches out toward South America.
The surroundings are hauntingly quiet as well, an aspect of
the continent that comes as a surprise to many first-time
visitors. Along the way, the ship's naturalists will point out
the birds-terns, petrels, and gulls-found on the coast and
on small islets at stops like Dallmann Bay. As you pass dark,
rocky Cuverville Island, you'll see some of the 6,500 pairs
of gentoo penguins that make their home there, the largest
known colony in the world. Continuing on to Paradise Harbor,
you'll have a chance to observe not only gentoo and chinstrap
penguins but possibly humans as well: Both Argentina and
Chile have manned research stations here.
SOUTH AMERICA & ANTARCTICA ADVENTURE
ms Zaandam • 25 Nights • December 2018-January 2019 • Prices from £3499pp
23
Call now to book: 0800 082 2170 or visit
www.jetlinecruise.com/cruise-packages/south-america-antarctica-adventure-629