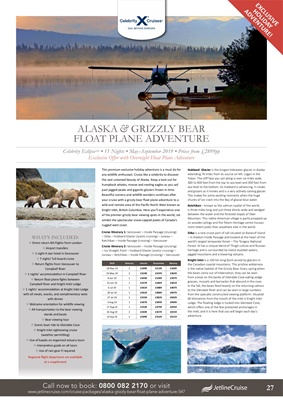 2019 Itinerary Interior Oceanview Balcony
18 May 19 2 £2899 £3139 £3289
25 May 19 2 £3249 £3479 £3639
8 Jun 19 1 £3039 £3349 £3479
22 Jun 19 1 £3579 £3829 £4019
6 Jul 19 1 £3619 £3889 £4079
20 Jul 19 1 £3619 £3889 £4079
27 Jul 19 2 £3559 £3829 £4029
3 Aug 19 1 £3679 £3949 £4099
17 Aug 19 1 £3539 £3799 £3959
24 Aug 19 2 £3039 £3379 £3559
14 Sep 19 2 £2899 £3169 £3319
WHAT'S INCLUDED:
✥ Direct return BA Flights from London
✥ Airport transfers
✥ 1 night 4-star hotel in Vancouver
✥ 7 nights' full-board cruise
✥ Return flights from Vancouver to
Campbell River
✥ 1 nights' accommodation in Campbell River
✥ Return float plane fights between
Campbell River and Knight Inlet Lodge
✥ 1 nights' accommodation at Knight Inlet Lodge
with all meals, snacks, and complimentary wine
with dinner
✥ Welcome orientation for wildlife viewing
✥ All transportation to the bear viewing
stands and boats
✥ Bear viewing tour
✥ Scenic boat ride to Glendale Cove
✥ Knight Inlet sightseeing cruise
(weather permitting)
✥ Use of kayaks on organised estuary tours
✥ Interpretive guide on all tours
✥ Use of rain gear if required
Regional flight departures are available
at a supplement
This premium exclusive holiday adventure is a must do for
any wildlife enthusiast. Cruise like a celebrity to discover
the vast untamed beauty of Alaska. Keep a look out for
humpback whales, moose and nesting eagles as you sail
past jagged peaks and gigantic glaciers frozen in time.
Beautiful scenery and wildlife wonders continues after
your cruise with a grizzly bear float plane adventure to a
wild and remote area of the Pacific North West known as
Knight Inlet, British Columbia. Here you'll experience one
of the premier grizzly bear viewing spots in the world, set
amidst the spectacular snow-capped peaks of Canada's
rugged west coast.
ALASKA & GRIZZLY BEAR
FLOAT PLANE ADVENTURE
Celebrity EclipseSM • 11 Nights • May-September 2019 • Prices from £2899pp
Exclusive Offer with Overnight Float Plane Adventure
Hubbard Glacier is the longest tidewater glacier in Alaska
extending 76 miles from its source on Mt. Logan in the
Yukon. The cliff face you sail along is over six miles wide,
300 to 400 feet from the top to sea level and 300 feet from
sea level to the bottom. As Hubbard is advancing, it creaks
and groans as it moves and is a very actively calving glacier.
This makes for some exciting moments when the huge
chunks of ice crash into the Bay of glacial blue water.
Ketchikan - known as the salmon capital of the world,
is three miles long and just three blocks wide and wedged
between the water and the forested slopes of Deer
Mountain. This native American village is partly propped up
on wooden pilings and the Totem Heritage centre houses
more totem poles than anywhere else in the world.
Sitka is a rare cruise port of call situated on Baranof Island
- in Alaska's Inside Passage and located at the heart of the
world's largest temperate forest - The Tongass National
Forest. Iit has a unique blend of Tlingit culture and Russian
heritage and is surrounded by island studded waters,
jagged mountains and a towering volcano.
Knight Inlet is a 100 km long fjord carved by glaciers in
the Canadian coastal mountains. This pristine wilderness
is the native habitat of the Grizzly Bear. Every spring when
the bears come out of hibernation, they can be seen
from a boat on the banks of Glendale Cove eating sedge
grasses, mussels and barnacles that abound in the cove.
In the fall, the bears feed heavily on the returning salmon
to the Glendale River and can be seen in large numbers
from the specially constructed viewing platform. Situated
60 kilometres from the mouth of the inlet is Knight Inlet
Lodge. The floating lodge is tucked into Glendale Cove,
which offers one of the few protected anchorages in
the inlet, and it is here that you will begin each day's
adventure.
Cruise Itinerary 1: Vancouver - Inside Passage (cruising)
- Sitka - Hubbard Glacier (scenic cruising) - Juneau -
Ketchikan - Inside Passage (cruising) - Vancouver
Cruise Itinerary 2: Vancouver - Inside Passage (cruising)
- Icy Straight Point - Hubbard Glacier (scenic cruising) -
Juneau - Ketchikan - Inside Passage (cruising) - Vancouver
EXCLUSIVE
HOLIDAY
ADVENTURE!
27
Call now to book: 0800 082 2170 or visit
www.jetlinecruise.com/cruise-packages/alaska-grizzly-bear-float-plane-adventure-547