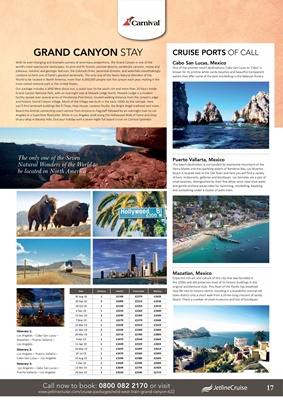 Itinerary 1:
Los Angeles - Cabo San Lucas -
Mazatlan - Puerto Vallarta -
Los Angeles
Itinerary 2:
Los Angeles - Puerto Vallarta -
Cabo San Lucas - Los Angeles
Itinerary 3:
Los Angeles - Cabo San Lucas -
Puerto Vallarta - Los Angeles
Date Itinerary Interior Oceanview Balcony
30 Aug 18 1 £2199 £2279 £2429
20 Sep 18 3 £2099 £2219 £2359
18 Oct 18 1 £2169 £2259 £2419
6 Dec 18 1 £2259 £2269 £2469
13 Dec 18 3 £2299 £2399 £2569
7 Mar 19 1 £2279 £2279 £2469
14 Mar 19 1 £2339 £2419 £2529
21 Mar 19 2 £2329 £2399 £2499
28 Mar 19 1 £2719 £2789 £2899
4 Apr 19 1 £2479 £2549 £2669
11 Apr 19 1 £2449 £2529 £2659
16 May 19 1 £2459 £2459 £2619
25 Jul 19 1 £2479 £2569 £2699
15 Aug 19 1 £2399 £2489 £2649
5 Dec 19 1 £2469 £2549 £2689
12 Dec 19 1 £2649 £2759 £2929
26 Dec 19 1 £2529 £2599 £2719
GRAND CANYON STAY
With its ever-changing and dramatic scenery of enormous proportions, the Grand Canyon is one of the
world's most spectacular landscapes. Its pine and fir forests, painted deserts, sandstone canyons, mesas and
plateaus, volcanic and geologic features, the Colorado River, perennial streams, and waterfalls breathtakingly
combine to form one of Earth's greatest landmarks. The only one of the Seven Natural Wonders of the
World to be located in North America, more than 4,000,000 people visit the canyon each year, making it the
most visited national park in the United States.
Our package includes a Wild West shoot out, a coach tour to the south rim and more than 24 hours inside
Grand Canyon National Park, with an overnight stay at Maswik Lodge North. Maswik Lodge is a modern
facility spread over several acres of Ponderosa Pine forest, located walking distance from the canyon's edge
and historic Grand Canyon Village. Much of the Village was built in the early 1900s by the railroad. Here
you'll find landmark buildings like El Tovar, Hopi House, Lookout Studio, the Bright Angel trailhead and more.
Board the Amtrak connecting coach service from Arizona to Flagstaff followed by an overnight train to Los
Angeles in a Superliner Roomette. While in Los Angeles stroll along the Hollywood Walk of Fame and shop
til-you-drop in Beverly Hills. End your holiday with a seven-night full board cruise on Carnival Splendor.
Cabo San Lucas, Mexico
One of the premier resort destinations, Cabo San Lucas or 'Cabo' is
known for its pristine white sandy beaches and beautiful transparent
waters that offer some of the best snorkelling in the Mexican Riviera.
Puerto Vallarta, Mexico
This beach destination is surrounded by impressive mountains of the
Sierra Madre and the sparkling waters of Banderas Bay. Los Muertos
beach is located next to the Old Town and here you will find a variety
of bars, restaurants, galleries and boutiques. Las Gemelas are a pair of
small beaches, distinguished by their fine white sand, clear blue water
and gentle onshore waves ideal for swimming, snorkelling, kayaking
and sunbathing under a cluster of palm trees.
CRUISE PORTS OF CALL
Mazatlan, Mexico
Enjoy the rich art and culture of this city that was founded in
the 1500s and still preserves most of its historic buildings in the
original architectural style. This Pearl of the Pacific has breathed
new life into its historic centre, resulting in a wonderful colonial old
town district only a short walk from a 20-km long crescent of sandy
beach. There a number of small museums and lots of boutiques.
The only one of the Seven
Natural Wonders of the World to
be located in North America
17
Call now to book: 0800 082 2170 or visit
www.jetlinecruise.com/cruise-packages/wild-west-train-grand-canyon-622