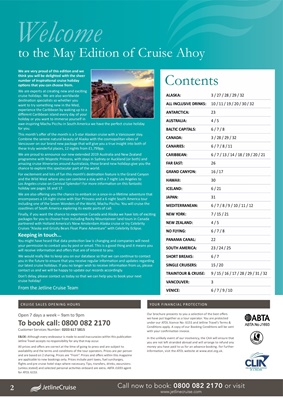 Open 7 days a week - 9am to 9pm
To book call: 0800 082 2170
Customer Services Number: 0203 617 5815
E&OE: Although every endeavour is made to avoid inaccuracies within this publication
Jetline Travel accepts no responsibility for any that may occur.
All prices and offers are correct at the time of going to press and are subject to
availability and the terms and conditions of the tour operators. Prices are per person
and are based on 2 sharing. Prices are "From". Prices and offers within this magazine
are applicable to new bookings only. Prices include port taxes, fuel surcharges,
flights and pre cruise hotel stays where necessary. Tips, transfers, drinks, excursions
(unless stated) and selected personal activities onboard are extra. ABTA J1693 agent
for ATOL 6153.
CRUISE SALES OPENING HOURS
Our brochure presents to you a selection of the best offers
we have put together as a tour operator. You are protected
under our ATOL licence No: 6153 and Jetline Travel's Terms &
Conditions apply. A copy of our Booking Conditions will be sent
with your confirmation invoice.
In the unlikely event of our insolvency, the CAA will ensure that
you are not left stranded abroad and will arrange to refund any
money you have paid to us for an advance booking. For further
information, visit the ATOL website at www.atol.org.uk.
YOUR FINANCIAL PROTECTION
ALASKA: 3 / 27 / 28 / 29 / 32
ALL INCLUSIVE DRINKS: 10 / 11 / 19 / 20 / 30 / 32
ANTARCTICA: 23
AUSTRALIA: 4 / 5
BALTIC CAPITALS: 6 / 7 / 8
CANADA: 3 / 28 / 29 / 32
CANARIES: 6 / 7 / 8 / 11
CARIBBEAN: 6 / 7 / 13 / 14 / 18 / 19 / 20 / 21
FAR EAST: 26
GRAND CANYON: 16 / 17
HAWAII: 30
ICELAND: 6 / 21
JAPAN: 31
MEDITERRANEAN: 6 / 7 / 8 / 9 / 10 / 11 / 12
NEW YORK: 7 / 15 / 21
NEW ZEALAND: 4 / 5
NO FLYING: 6 / 7 / 8
PANAMA CANAL: 22
SOUTH AMERICA: 23 / 24 / 25
SHORT BREAKS: 6 / 7
SINGLE CRUISERS: 15 / 20
TRAINTOUR & CRUISE: 9 / 15 / 16 / 17 / 28 / 29 / 31 / 32
VANCOUVER: 3
VENICE: 6 / 7 / 9 / 10
Contents
We are very proud of this edition and we
think you will be delighted with the sheer
number of inspirational cruise holiday
options that you can choose from.
We are experts at creating new and exciting
cruise holidays. We are also worldwide
destination specialists so whether you
want to try something new in the Med,
experience the Caribbean by waking up to a
different Caribbean island every day of your
holiday or you want to immerse yourself in
awe-inspiring Machu Picchu in South America we have the perfect cruise holiday
for you.
This month's offer of the month is a 5-star Alaskan cruise with a Vancouver stay.
Combine the serene natural beauty of Alaska with the cosmopolitan vibes of
Vancouver on our brand new package that will give you a true insight into both of
these truly wonderful places, 12 nights from £1,799pp.
We are proud to announce our new extended 2019 Australia and New Zealand
programme with Majestic Princess, with stays in Sydney or Auckland (or both) and
amazing cruise itineraries around Australasia, these brand new holidays give you the
chance to explore this spectacular part of the world.
For excitement and lots of fun this month's destination feature is the Grand Canyon
and the Wild West where you can combine a stay with a 7 night Los Angeles to
Los Angeles cruise on Carnival Splendor! For more information on this fantastic
holiday see pages 16 and 17.
We are also offering you the chance to embark on a once-in-a-lifetime adventure that
encompasses a 14 night cruise with Star Princess and a 6 night South America tour
including one of the Seven Wonders of the World, Machu Picchu. You will cruise the
coastlines of South America exploring its exotic ports of call.
Finally, if you want the chance to experience Canada and Alaska we have lots of exciting
packages for you to choose from including Rocky Mountaineer land tours in Canada
partnered with Holland America's Niew Amsterdam Alaska cruise or try Celebrity
Cruises "Alaska and Grizzly Bears Float Plane Adventure" with Celebrity Eclipse.
Keeping in touch...
You might have heard that data protection law is changing and companies will need
your permission to contact you by post or email. This is a good thing and it means you
will receive information and offers that are of interest to you.
We would really like to keep you on our database so that we can continue to contact
you in the future to ensure that you receive regular information and updates regarding
our latest cruise holidays. If you no longer wish to receive information from us, please
contact us and we will be happy to update our records accordingly.
Don't delay, please contact us today so that we can help you to book your next
cruise holiday!
From the Jetline Cruise Team
Welcometo the May Edition of Cruise Ahoy
2 Call now to book: 0800 082 2170 or visit