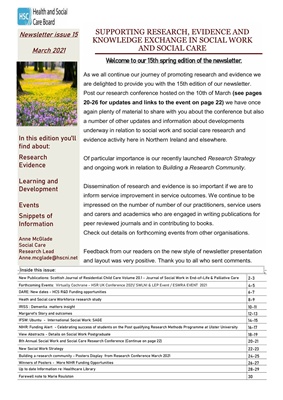 Welcome to our 15th spring edition of the newsletter.
As we all continue our journey of promoting research and evidence we
are delighted to provide you with the 15th edition of our newsletter.
Post our research conference hosted on the 10th of March (see pages
20-26 for updates and links to the event on page 22) we have once
again plenty of material to share with you about the conference but also
a number of other updates and information about developments
underway in relation to social work and social care research and
evidence activity here in Northern Ireland and elsewhere.
Of particular importance is our recently launched Research Strategy
and ongoing work in relation to Building a Research Community.
Dissemination of research and evidence is so important if we are to
inform service improvement in service outcomes. We continue to be
impressed on the number of number of our practitioners, service users
and carers and academics who are engaged in writing publications for
peer reviewed journals and in contributing to books.
Check out details on forthcoming events from other organisations.
Feedback from our readers on the new style of newsletter presentation
and layout was very positive. Thank you to all who sent comments.
SUPPORTING RESEARCH, EVIDENCE AND
KNOWLEDGE EXCHANGE IN SOCIAL WORK
AND SOCIAL CARE
Inside Story 2
New Publications: Scottish Journal of Residential Child Care Volume 20.1 - Journal of Social Work in End-of-Life & Palliative Care 2-3
Forthcoming Events: Virtually Cochrane - HSR UK Conference 2021/ SWLNI & LEP Event / ESWRA EVENT 2021 4-5
DARE: New dates - HCS R&D Funding opportunities 6-7
Heath and Social care Workforce research study 8-9
IRISS : Dementia matters insight 10-11
Margaret's Story and outcomes 12-13
IFSW: Ubuntu - International Social Work: SAGE 14-15
NIHR: Funding Alert - Celebrating success of students on the Post qualifying Research Methods Programme at Ulster University 16-17
View Abstracts - Details on Social Work Postgraduate 18-19
8th Annual Social Work and Social Care Research Conference (Continue on page 22) 20-21
New Social Work Strategy 22-23
Building a research community - Posters Display from Research Conference March 2021 24-25
Winners of Posters - More NIHR Funding Opportunities 26-27
Up to date Information re: Healthcare Library 28-29
Farewell note to Marie Roulston 30
Inside this issue:
Newsletter issue 15
March 2021
In this edition you'll
find about:
Research
Evidence
Learning and
Development
Events
Snippets of
Information
Anne McGlade
Social Care
Research Lead