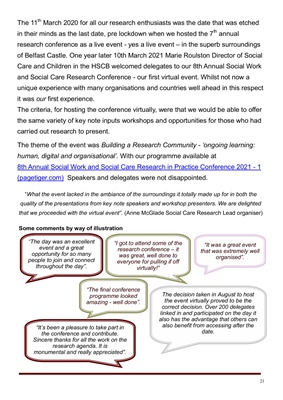 21
The 11th
March 2020 for all our research enthusiasts was the date that was etched
in their minds as the last date, pre lockdown when we hosted the 7th
annual
research conference as a live event - yes a live event - in the superb surroundings
of Belfast Castle. One year later 10th March 2021 Marie Roulston Director of Social
Care and Children in the HSCB welcomed delegates to our 8th Annual Social Work
and Social Care Research Conference - our first virtual event. Whilst not now a
unique experience with many organisations and countries well ahead in this respect
it was our first experience.
The criteria, for hosting the conference virtually, were that we would be able to offer
the same variety of key note inputs workshops and opportunities for those who had
carried out research to present.
The theme of the event was Building a Research Community - 'ongoing learning:
human, digital and organisational'. With our programme available at
8th Annual Social Work and Social Care Research in Practice Conference 2021 - 1
(pagetiger.com) Speakers and delegates were not disappointed.
"What the event lacked in the ambiance of the surroundings it totally made up for in both the
quality of the presentations from key note speakers and workshop presenters. We are delighted
that we proceeded with the virtual event". (Anne McGlade Social Care Research Lead organiser)
Some comments by way of illustration
"The final conference
programme looked
amazing - well done".
"It's been a pleasure to take part in
the conference and contribute.
Sincere thanks for all the work on the
research agenda. It is
monumental and really appreciated".
"It was a great event
that was extremely well
organised".
"I got to attend some of the
research conference - it
was great, well done to
everyone for pulling if off
virtually!"
"The day was an excellent
event and a great
opportunity for so many
people to join and connect
throughout the day".
The decision taken in August to host
the event virtually proved to be the
correct decision. Over 200 delegates
linked in and participated on the day it
also has the advantage that others can
also benefit from accessing after the
date.