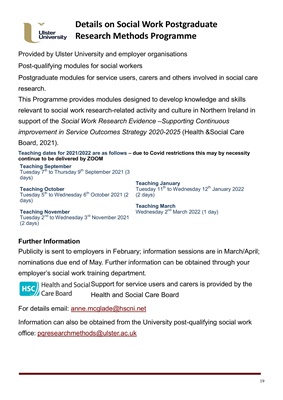 19
Details on Social Work Postgraduate
Research Methods Programme
Provided by Ulster University and employer organisations
Post-qualifying modules for social workers
Postgraduate modules for service users, carers and others involved in social care
research.
This Programme provides modules designed to develop knowledge and skills
relevant to social work research-related activity and culture in Northern Ireland in
support of the Social Work Research Evidence -Supporting Continuous
improvement in Service Outcomes Strategy 2020-2025 (Health &Social Care
Board, 2021).
Teaching dates for 2021/2022 are as follows - due to Covid restrictions this may by necessity
continue to be delivered by ZOOM
Further Information
Publicity is sent to employers in February; information sessions are in March/April;
nominations due end of May. Further information can be obtained through your
employer's social work training department.
Support for service users and carers is provided by the
Health and Social Care Board
For details email: anne.mcglade@hscni.net
Information can also be obtained from the University post-qualifying social work
office: pqresearchmethods@ulster.ac.uk
Teaching September
Tuesday 7th
to Thursday 9th
September 2021 (3
days)
Teaching October
Tuesday 5th
to Wednesday 6th
October 2021 (2
days)
Teaching November
Tuesday 2nd
to Wednesday 3rd
November 2021
(2 days)
Teaching January
Tuesday 11th
to Wednesday 12th
January 2022
(2 days)
Teaching March
Wednesday 2nd March 2022 (1 day)