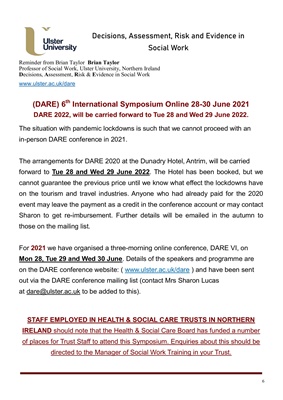 6
Decisions, Assessment, Risk and Evidence in
Social Work
Reminder from Brian Taylor Brian Taylor
Professor of Social Work, Ulster University, Northern Ireland
Decisions, Assessment, Risk & Evidence in Social Work
(DARE) 6th International Symposium Online 28-30 June 2021
DARE 2022, will be carried forward to Tue 28 and Wed 29 June 2022.
The situation with pandemic lockdowns is such that we cannot proceed with an
in-person DARE conference in 2021.
The arrangements for DARE 2020 at the Dunadry Hotel, Antrim, will be carried
forward to Tue 28 and Wed 29 June 2022. The Hotel has been booked, but we
cannot guarantee the previous price until we know what effect the lockdowns have
on the tourism and travel industries. Anyone who had already paid for the 2020
event may leave the payment as a credit in the conference account or may contact
Sharon to get re-imbursement. Further details will be emailed in the autumn to
those on the mailing list.
For 2021 we have organised a three-morning online conference, DARE VI, on
Mon 28, Tue 29 and Wed 30 June. Details of the speakers and programme are
on the DARE conference website: ( dare@ulster.ac.uk_blank" title="Visit www.ulster.ac.uk/dare">www.ulster.ac.uk/dare ) and have been sent
out via the DARE conference mailing list (contact Mrs Sharon Lucas
at dare@ulster.ac.uk to be added to this).
STAFF EMPLOYED IN HEALTH & SOCIAL CARE TRUSTS IN NORTHERN
IRELAND should note that the Health & Social Care Board has funded a number
of places for Trust Staff to attend this Symposium. Enquiries about this should be
directed to the Manager of Social Work Training in your Trust.