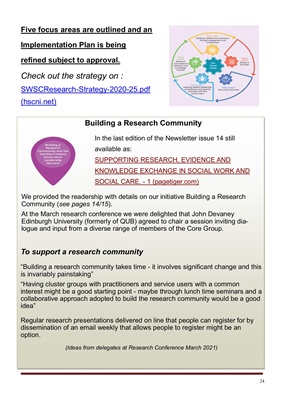 24
Five focus areas are outlined and an
Implementation Plan is being
refined subject to approval.
Check out the strategy on :
SWSCResearch-Strategy-2020-25.pdf
(hscni.net)
In the last edition of the Newsletter issue 14 still
available as:
SUPPORTING RESEARCH, EVIDENCE AND
KNOWLEDGE EXCHANGE IN SOCIAL WORK AND
SOCIAL CARE. - 1 (pagetiger.com)
Building a Research Community
To support a research community
"Building a research community takes time - it involves significant change and this
is invariably painstaking"
"Having cluster groups with practitioners and service users with a common
interest might be a good starting point - maybe through lunch time seminars and a
collaborative approach adopted to build the research community would be a good
idea"
Regular research presentations delivered on line that people can register for by
dissemination of an email weekly that allows people to register might be an
option.
(Ideas from delegates at Research Conference March 2021)
We provided the readership with details on our initiative Building a Research
Community (see pages 14/15).
At the March research conference we were delighted that John Devaney
Edinburgh University (formerly of QUB) agreed to chair a session inviting dialogue and
input from a diverse range of members of the Core Group.