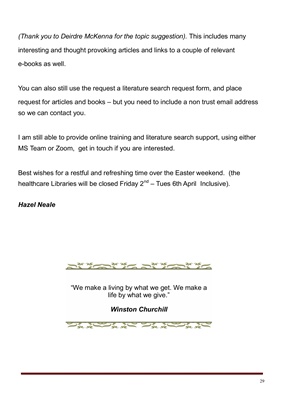 29
"We make a living by what we get. We make a
life by what we give."
Winston Churchill
(Thank you to Deirdre McKenna for the topic suggestion). This includes many
interesting and thought provoking articles and links to a couple of relevant
e-books as well.
You can also still use the request a literature search request form, and place
request for articles and books - but you need to include a non trust email address
so we can contact you.
I am still able to provide online training and literature search support, using either
MS Team or Zoom, get in touch if you are interested.
Best wishes for a restful and refreshing time over the Easter weekend. (the
healthcare Libraries will be closed Friday 2nd - Tues 6th April Inclusive).
Hazel Neale