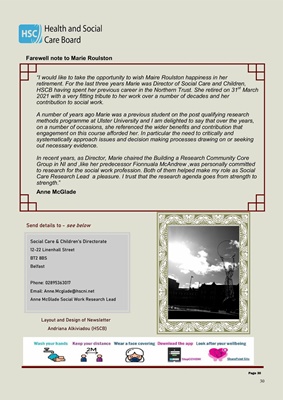 30
Social Care & Children's Directorate
12-22 Linenhall Street
BT2 8BS
Belfast
Phone: 02895363017
Email: anne.mcglade@hscni.net
Anne McGlade Social Work Research Lead
Layout and Design of Newsletter
Andriana Alkiviadou (HSCB)
Page 30
Send details to - see below
Farewell note to Marie Roulston
"I would like to take the opportunity to wish Maire Roulston happiness in her
retirement. For the last three years Marie was Director of Social Care and Children,
HSCB having spent her previous career in the Northern Trust. She retired on 31st
March
2021 with a very fitting tribute to her work over a number of decades and her
contribution to social work.
A number of years ago Marie was a previous student on the post qualifying research
methods programme at Ulster University and I am delighted to say that over the years,
on a number of occasions, she referenced the wider benefits and contribution that
engagement on this course afforded her. In particular the need to critically and
systematically approach issues and decision making processes drawing on or seeking
out necessary evidence.
In recent years, as Director, Marie chaired the Building a Research Community Core
Group in NI and ,like her predecessor Fionnuala McAndrew ,was personally committed
to research for the social work profession. Both of them helped make my role as Social
Care Research Lead a pleasure. I trust that the research agenda goes from strength to
strength."
Anne McGlade