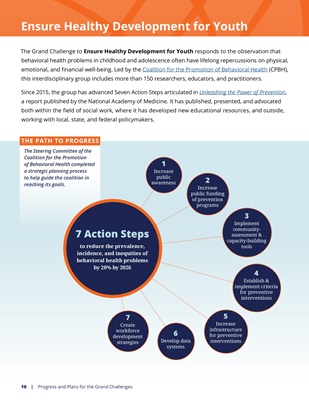 Ensure Healthy Development for Youth
The Grand Challenge to Ensure Healthy Development for Youth responds to the observation that
behavioral health problems in childhood and adolescence often have lifelong repercussions on physical,
emotional, and financial well-being. Led by the Coalition for the Promotion of Behavioral Health (CPBH),
this interdisciplinary group includes more than 150 researchers, educators, and practitioners.
Since 2015, the group has advanced Seven Action Steps articulated in Unleashing the Power of Prevention,
a report published by the National Academy of Medicine. It has published, presented, and advocated
both within the field of social work, where it has developed new educational resources, and outside,
working with local, state, and federal policymakers.
THE PATH TO PROGRESS
The Steering Committee of the
Coalition for the Promotion
of Behavioral Health completed
a strategic planning process
to help guide the coalition in
reaching its goals.
1
Increase
public
awareness 2
Increase
public funding
of prevention
programs 5
Increase
infrastructure
for preventive
interventions 3
Implement
communityassessment &
capacity-building
tools
7
Create
workforce
development
strategies
6
Develop data
systems
4
Establish &
implement criteria
for preventive
interventions
7 Action Steps
to reduce the prevalence,
incidence, and inequities of
behavioral health problems
by 20% by 2026
10 | Progress and Plans for the Grand Challenges