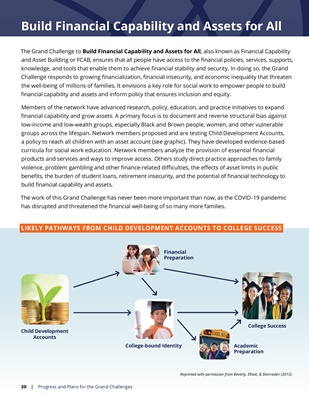 Build Financial Capability and Assets for All
The Grand Challenge to Build Financial Capability and Assets for All, also known as Financial Capability
and Asset Building or FCAB, ensures that all people have access to the financial policies, services, supports,
knowledge, and tools that enable them to achieve financial stability and security. In doing so, the Grand
Challenge responds to growing financialization, financial insecurity, and economic inequality that threaten
the well-being of millions of families. It envisions a key role for social work to empower people to build
financial capability and assets and inform policy that ensures inclusion and equity.
Members of the network have advanced research, policy, education, and practice initiatives to expand
financial capability and grow assets. A primary focus is to document and reverse structural bias against
low-income and low-wealth groups, especially Black and Brown people, women, and other vulnerable
groups across the lifespan. Network members proposed and are testing Child Development Accounts,
a policy to reach all children with an asset account (see graphic). They have developed evidence-based
curricula for social work education. Network members analyze the provision of essential financial
products and services and ways to improve access. Others study direct practice approaches to family
violence, problem gambling and other finance-related difficulties, the effects of asset limits in public
benefits, the burden of student loans, retirement insecurity, and the potential of financial technology to
build financial capability and assets.
The work of this Grand Challenge has never been more important than now, as the COVID -19 pandemic
has disrupted and threatened the financial well-being of so many more families.
LIKELY PATHWAYS FROM CHILD DEVELOPMENT ACCOUNTS TO COLLEGE SUCCESS
Reprinted with permission from Beverly, Elliott, & Sherraden (2013).
Child Development
Accounts
College-bound Identity
College Success
Financial
Preparation
Academic
Preparation
30 | Progress and Plans for the Grand Challenges