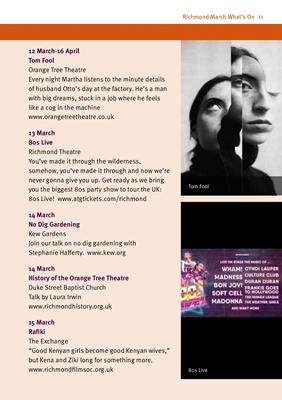 Richmond March What's On 11
12 March-16 April
Tom Fool
Orange Tree Theatre
Every night Martha listens to the minute details
of husband Otto's day at the factory. He's a man
with big dreams, stuck in a job where he feels
like a cog in the machine
13 March
80s Live
Richmond Theatre
You've made it through the wilderness,
somehow, you've made it through and now we're
never gonna give you up. Get ready as we bring
you the biggest 80s party show to tour the UK:
80s Live! www.atgtickets.com/richmond
14 March
No Dig Gardening
Kew Gardens
Join our talk on no dig gardening with
Stephanie Hafferty. www.kew.org
14 March
History of the Orange Tree Theatre
Duke Street Baptist Church
Talk by Laura Irwin
15 March
Rafiki
The Exchange
"Good Kenyan girls become good Kenyan wives,"
but Kena and Ziki long for something more.
Tom Fool
80s Live