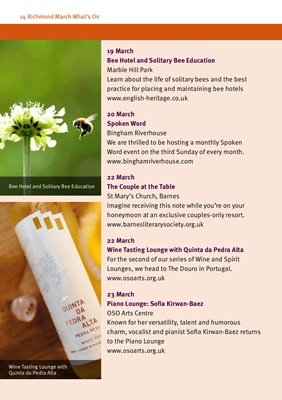 Richmond March What's On
14
19 March
Bee Hotel and Solitary Bee Education
Marble Hill Park
Learn about the life of solitary bees and the best
practice for placing and maintaining bee hotels
20 March
Spoken Word
Bingham Riverhouse
We are thrilled to be hosting a monthly Spoken
Word event on the third Sunday of every month.
22 March
The Couple at the Table
St Mary's Church, Barnes
Imagine receiving this note while you're on your
honeymoon at an exclusive couples-only resort.
www.barnesliterarysociety.org.uk
22 March
Wine Tasting Lounge with Quinta da Pedra Alta
For the second of our series of Wine and Spirit
Lounges, we head to The Douro in Portugal.
23 March
Piano Lounge: Sofia Kirwan-Baez
OSO Arts Centre
Known for her versatility, talent and humorous
charm, vocalist and pianist Sofia Kirwan-Baez returns
to the Piano Lounge
Bee Hotel and Solitary Bee Education
Wine Tasting Lounge with
Quinta da Pedra Alta