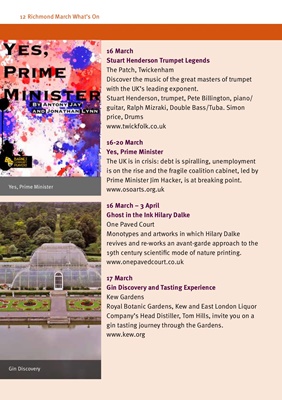 Richmond March What's On
12
16 March
Stuart Henderson Trumpet Legends
The Patch, Twickenham
Discover the music of the great masters of trumpet
with the UK's leading exponent.
Stuart Henderson, trumpet, Pete Billington, piano/
guitar, Ralph Mizraki, Double Bass/Tuba. Simon
price, Drums
16-20 March
Yes, Prime Minister
The UK is in crisis: debt is spiralling, unemployment
is on the rise and the fragile coalition cabinet, led by
Prime Minister Jim Hacker, is at breaking point.
16 March - 3 April
Ghost in the Ink Hilary Dalke
One Paved Court
Monotypes and artworks in which Hilary Dalke
revives and re-works an avant-garde approach to the
19th century scientific mode of nature printing.
17 March
Gin Discovery and Tasting Experience
Kew Gardens
Royal Botanic Gardens, Kew and East London Liquor
Company's Head Distiller, Tom Hills, invite you on a
gin tasting journey through the Gardens.
Gin Discovery
Yes, Prime Minister