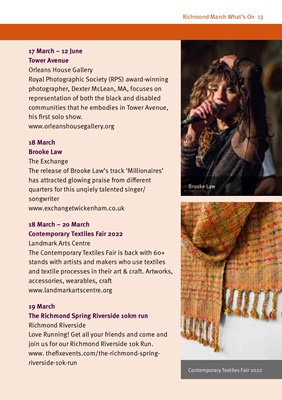 Richmond March What's On 13
17 March - 12 June
Tower Avenue
Orleans House Gallery
Royal Photographic Society (RPS) award-winning
photographer, Dexter McLean, MA, focuses on
representation of both the black and disabled
communities that he embodies in Tower Avenue,
his first solo show.
18 March
Brooke Law
The Exchange
The release of Brooke Law's track 'Millionaires'
has attracted glowing praise from different
quarters for this unqiely talented singer/
songwriter
18 March - 20 March
Contemporary Textiles Fair 2022
Landmark Arts Centre
The Contemporary Textiles Fair is back with 60+
stands with artists and makers who use textiles
and textile processes in their art & craft. Artworks,
accessories, wearables, craft
19 March
The Richmond Spring Riverside 10km run
Richmond Riverside
Love Running! Get all your friends and come and
join us for our Richmond Riverside 10k Run.
www. thefixevents.com/the-richmond-springriverside-10k-run
Brooke Law
Contemporary Textiles Fair 2022