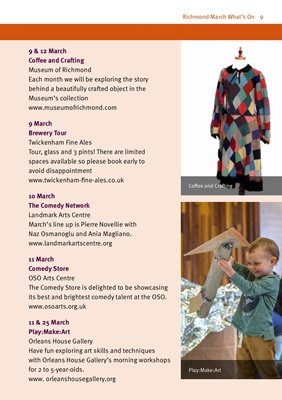 Richmond March What's On 9
9 & 12 March
Coffee and Crafting
Museum of Richmond
Each month we will be exploring the story
behind a beautifully crafted object in the
Museum's collection
9 March
Brewery Tour
Twickenham Fine Ales
Tour, glass and 3 pints! There are limited
spaces available so please book early to
avoid disappointment
www.twickenham-fine-ales.co.uk
10 March
The Comedy Network
Landmark Arts Centre
March's line up is Pierre Novellie with
Naz Osmanoglu and Ania Magliano.
11 March
Comedy Store
OSO Arts Centre
The Comedy Store is delighted to be showcasing
its best and brightest comedy talent at the OSO.
11 & 25 March
Play:Make:Art
Orleans House Gallery
Have fun exploring art skills and techniques
with Orleans House Gallery's morning workshops
for 2 to 5-year-olds.
www. orleanshousegallery.org
Play:Make:Art
Coffee and Crafting