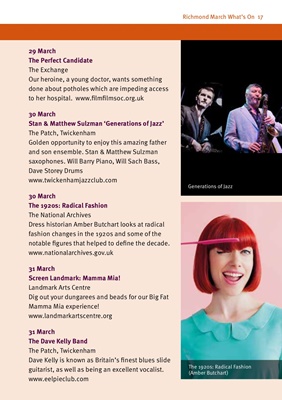 Richmond March What's On 17
29 March
The Perfect Candidate
The Exchange
Our heroine, a young doctor, wants something
done about potholes which are impeding access
to her hospital. www.filmfilmsoc.org.uk
30 March
Stan & Matthew Sulzman 'Generations of Jazz'
The Patch, Twickenham
Golden opportunity to enjoy this amazing father
and son ensemble. Stan & Matthew Sulzman
saxophones. Will Barry Piano, Will Sach Bass,
Dave Storey Drums
30 March
The 1920s: Radical Fashion
The National Archives
Dress historian Amber Butchart looks at radical
fashion changes in the 1920s and some of the
notable figures that helped to define the decade.
31 March
Screen Landmark: Mamma Mia!
Landmark Arts Centre
Dig out your dungarees and beads for our Big Fat
Mamma Mia experience!
31 March
The Dave Kelly Band
The Patch, Twickenham
Dave Kelly is known as Britain's finest blues slide
guitarist, as well as being an excellent vocalist.
Generations of Jazz
The 1920s: Radical Fashion
(Amber Butchart)