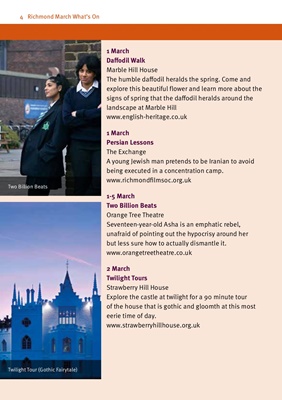 Richmond March What's On
4
1 March
Daffodil Walk
Marble Hill House
The humble daffodil heralds the spring. Come and
explore this beautiful flower and learn more about the
signs of spring that the daffodil heralds around the
landscape at Marble Hill
1 March
Persian Lessons
The Exchange
A young Jewish man pretends to be Iranian to avoid
being executed in a concentration camp.
1-5 March
Two Billion Beats
Orange Tree Theatre
Seventeen-year-old Asha is an emphatic rebel,
unafraid of pointing out the hypocrisy around her
but less sure how to actually dismantle it.
2 March
Twilight Tours
Strawberry Hill House
Explore the castle at twilight for a 90 minute tour
of the house that is gothic and gloomth at this most
eerie time of day.
www.strawberryhillhouse.org.uk
Two Billion Beats
Twilight Tour (Gothic Fairytale)