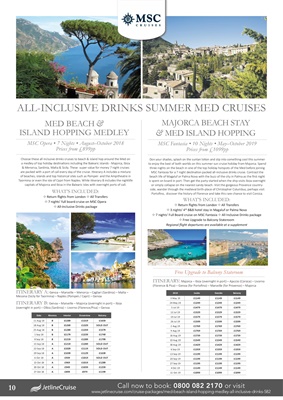 ALL-INCLUSIVE DRINKS SUMMER MED CRUISES
MAJORCA BEACH STAY
& MED ISLAND HOPPING
MSC Fantasia • 10 Nights • May-October 2019
Prices from £1099pp
Don your shades, splash on the suntan lotion and slip into something cool this summer
to enjoy the best of both worlds on this summer sun cruise holiday from Majorca. Spend
three nights on the beach in one of the top holiday hotspots of the Med before joining
MSC Fantasia for a 7 night destination packed all-inclusive drinks cruise. Contrast the
beach life of Magaluf or Palma Nova with the buzz of the city in Palma as the first night
is spent on board in port. Then get the party started when the ship visits Ibiza overnight
or simply collapse on the nearest sandy beach. Visit the gorgeous Provence countryside, wander
through the medieval birth-place of Christopher Columbus, perhaps visit
Portofino, discover the history of Florence and take this rare chance to visit Corsica.
Free Upgrade to Balcony Stateroom
WHAT'S INCLUDED:
✥ Return flights from London ✥ All Transfers
✥ 3 nights' 4* B&B hotel stay in Magaluf or Palma Nova
✥ 7 nights' Full Board cruise on MSC Fantasia ✥ All Inclusive Drinks package
✥ Free Upgrade to Balcony Stateroom
Regional flight departures are available at a supplement
MED BEACH &
ISLAND HOPPING MEDLEY
MSC Opera • 7 Nights • August-October 2018
Prices from £899pp
Choose these all inclusive drinks cruises to beach & island hop around the Med on
a medley of top holiday destinations including the Balearic islands - Majorca, Ibiza
& Menorca, Sardinia, Malta & Sicily. These super value for money 7 night cruises
are packed with a port of call every day of the cruise. Itinerary A includes a mixture
of beaches, islands and top historical sites such as Pompeii and the Ampitheatre in
Taormina or even the isle of Capri from Naples. While itinerary B includes the nightlife
capitals of Majorca and Ibiza in the Balearic Isles with overnight ports of call.
WHAT'S INCLUDED:
✥ Return flights from London ✥ All Transfers
✥ 7 nights' full board cruise on MSC Opera
✥ All-Inclusive Drinks package
ITINERARY A: Genoa - Marseille - Menorca - Cagliari (Sardinia) - Malta -
Messina (Sicily for Taormina) - Naples (Pompeii / Capri) - Genoa
ITINERARY B: Genoa - Marseille - Majorca (overnight in port) - Ibiza
(overnight in port) - Olbia (Sardinia) - Livorno (Florence/Pisa) - Genoa
ITINERARY: Majorca - Ibiza (overnight in port) - Ajaccio (Corsica) - Livorno
(Florence & Pisa) - Genoa (for Portofino) - Marseille (for Provence) - Majorca
Date Itinerary Interior Oceanview Balcony
11 Aug 18 B £1289 £1319 £1659
18 Aug 18 B £1269 £1329 SOLD OUT
25 Aug 18 B £1289 £1359 £1579
1 Sep 18 B £1179 £1239 £1749
8 Sep 18 B £1219 £1289 £1799
15 Sep 18 A £1219 £1289 SOLD OUT
22 Sep 18 A £1029 £1119 SOLD OUT
29 Sep 18 A £1039 £1129 £1639
6 Oct 18 A £939 £1019 SOLD OUT
13 Oct 18 A £969 £1019 £1289
20 Oct 18 A £949 £1039 £1259
27 Oct 18 A £899 £979 £1199
2019 Inside Outside Balcony
3 May 19 £1149 £1149 £1149
24 May 19 £1249 £1249 £1249
5 Jul 19 £1479 £1479 £1479
12 Jul 19 £1529 £1529 £1529
19 Jul 19 £1579 £1579 £1579
26 Jul 19 £1599 £1599 £1599
2 Aug 19 £1769 £1769 £1769
9 Aug 19 £1769 £1769 £1769
16 Aug 19 £1739 £1739 £1739
23 Aug 19 £1549 £1549 £1549
30 Aug 19 £1429 £1429 £1429
6 Sep 19 £1359 £1359 £1359
13 Sep 19 £1199 £1199 £1199
20 Sep 19 £1199 £1199 £1199
27 Sep 19 £1199 £1199 £1199
4 Oct 19 £1149 £1149 £1149
11 Oct 19 £1099 £1099 £1099
Call now to book: 0800 082 2170 or visit
www.jetlinecruise.com/cruise-packages/med-beach-island-hopping-medley-all-inclusive-drinks-582
10