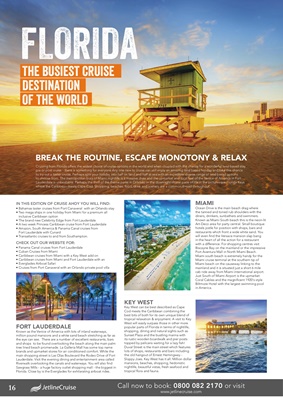 IN THIS EDITION OF CRUISE AHOY YOU WILL FIND:
• Bahamas taster cruises from Port Canaveral with an Orlando stay
• Two mega ships in one holiday from Miami for a premium all
inclusive Caribbean option
• The brand new Celebrity Edge from Fort Lauderdale
• A two week Princess Caribbean cruise from Fort Lauderdale
• Amazon, South America & Panama Canal cruises from
Fort Lauderdale with Cunard
• Transatlantic cruises to and from Southampton.
CHECK OUT OUR WEBSITE FOR:
• Panama Canal cruises from Fort Lauderdale
• Cuban Cruises from Miami
• Caribbean cruises from Miami with a Key West add on
• Caribbean cruises from Miami and Fort Lauderdale with an
• Everglades Airboat Safari
• Cruises from Port Canaveral with an Orlando private pool villa
FORT LAUDERDALE
Known as the Venice of America with lots of inland waterways,
million pound mansions and a white sand beach stretching as far as
the eye can see. There are a number of excellent restaurants, bars
and shops to be found overlooking the beach along the main palm
tree lined beach promenade. La Galleria Mall has some top name
brands and upmarket stores for air conditioned comfort. While the
main shopping street is Las Olas Boulevard the Rodeo Drive of Fort
Lauderdale. Visit the evening dining and entertainment area called
Riverwalk overlooking the canals and waterways. You will also find
Sawgrass Mills - a huge factory outlet shopping mall - the biggest in
Florida. Close by is the Everglades for exhilarating airboat rides.
FLORIDA
BREAK THE ROUTINE, ESCAPE MONOTONY & RELAX
Cruising from Florida offers the widest choice of cruise options in the world and when coupled with the chance for a wonderful land based stay
pre or post cruise - there is something for everyone Any one new to cruise can still enjoy an amazing land based holiday and take this chance
to try out a taster cruise. Perhaps split your holiday into half on land and half at sea with an incredible diverse range of land based options
to choose from. The metropolitan buzz of Miami nightlife is a massive draw and the upmarket and local feel of the Venice of America in Fort
Lauderdale is unbeatable. Perhaps the thrill of the theme parks in Orlando or the downright slower pace of life in the picturesque Florida Keys
where the Caribbean meets Cape Cod. Shopping, beaches, food, drink and scenery are a common thread throughout.
THE BUSIEST CRUISE
DESTINATION
OF THE WORLD
MIAMI Ocean Drive is the main beach drag where
the tanned and toned rub shoulders with the
diners, drinkers, sunbathers and swimmers.
Known as Miami South beach this is the neon-lit
Art-Deco area for party central. Small boutique
hotels jostle for position with shops, bars and
restaurants which front a wide white sand. You
will even find the Versace mansion slap bang
in the heart of all the action for a restaurant
with a difference. For shopping centres visit
Biscayne Bay on the mainland or the impressive
Port Aventura Mall in North Miami Beach.
Miami south beach is extremely handy for the
Miami cruise terminal at the southern tip of
Miami beach on the causeway linking to the
mainland and it is situated just a short 6 mile
cab ride away from Miami international airport.
Just South of Miami Airport is the upmarket
Coral Cables and the magnificent 1920's style
Biltmore Hotel with the largest swimming pool
in America.
KEY WEST
Key West can be best described as Cape
Cod meets the Caribbean combining the
best bits of both for its own unique blend of
tropical relaxation & enjoyment. A visit to Key
West will easily surpass those in other more
popular parts of Florida in terms of nightlife,
shopping, dining and natural sights such as
Sunset Plaza and the bustling marina with
its rustic wooden boardwalk and pier posts
topped by pelicans waiting for a lazy fish!
Duval Street is the main street which features
lots of shops, restaurants and bars including
the old hangout of Ernest Hemingway -
Sloppy Joes. Key West has it all: Million dollar
mansions, beaches, shopping, hedonistic
nightlife, beautiful vistas, fresh seafood and
tropical flora and fauna.
Call now to book: 0800 082 2170 or visit
16