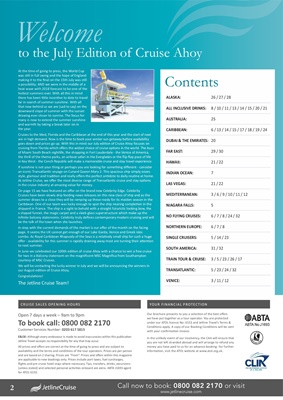 Open 7 days a week - 9am to 9pm
To book call: 0800 082 2170
Customer Services Number: 0203 617 5815
E&OE: Although every endeavour is made to avoid inaccuracies within this publication
Jetline Travel accepts no responsibility for any that may occur.
All prices and offers are correct at the time of going to press and are subject to
availability and the terms and conditions of the tour operators. Prices are per person
and are based on 2 sharing. Prices are "From". Prices and offers within this magazine
are applicable to new bookings only. Prices include port taxes, fuel surcharges,
flights and pre cruise hotel stays where necessary. Tips, transfers, drinks, excursions
(unless stated) and selected personal activities onboard are extra. ABTA J1693 agent
for ATOL 6153.
CRUISE SALES OPENING HOURS
Our brochure presents to you a selection of the best offers
we have put together as a tour operator. You are protected
under our ATOL licence No: 6153 and Jetline Travel's Terms &
Conditions apply. A copy of our Booking Conditions will be sent
with your confirmation invoice.
In the unlikely event of our insolvency, the CAA will ensure that
you are not left stranded abroad and will arrange to refund any
money you have paid to us for an advance booking. For further
information, visit the ATOL website at www.atol.org.uk.
YOUR FINANCIAL PROTECTION
ALASKA: 26 / 27 / 28
ALL INCLUSIVE DRINKS: 8 / 10 / 11 / 13 / 14 / 15 / 20 / 21
AUSTRALIA: 25
CARIBBEAN: 6 / 13 / 14 / 15 / 17 / 18 / 19 / 24
DUBAI & THE EMIRATES: 20
FAR EAST: 29 / 30
HAWAII: 21 / 22
INDIAN OCEAN: 7
LAS VEGAS: 21 / 22
MEDITERRANEAN: 3 / 6 / 9 / 10 / 11 / 12
NIAGARA FALLS: 5
NO FLYING CRUISES: 6 / 7 / 8 / 24 / 32
NORTHERN EUROPE: 6 / 7 / 8
SINGLE CRUISERS: 5 / 14 / 23
SOUTH AMERICA: 31 / 32
TRAIN TOUR & CRUISE: 3 / 5 / 23 / 26 / 17
TRANSATLANTIC: 5 / 23 / 24 / 32
VENICE: 3 / 11 / 12
Contents
At the time of going to press, the World Cup
was still in full swing and the hope of England
making it to the final on the 15th July was still
a possibility; AND we were in the middle of a
heat wave with 2018 forecast to be one of the
hottest summers ever. With all this in mind
there has been little incentive to date to travel
far in search of summer sunshine. With all
that now behind us we are (sad to say) on the
downward slope of summer with the sunset
drawing ever closer to sunrise. The focus for
many is now to extend the summer sunshine
and warmth by taking a break later on in
the year.
Cruises to the Med, Florida and the Caribbean at the end of this year and the start of next
are in high demand. Now is the time to book your winter-sun getaway before availability
goes down and prices go up. With this in mind our July edition of Cruise Ahoy focuses on
cruising from Florida which offers the widest choice of cruise options in the world. The buzz
of Miami South Beach nightlife, the shopping in Fort Lauderdale - the Venice of America,
the thrill of the theme parks, an airboat safari in the Everglades or the flip flop pace of life
in Key West - the Conch Republic will make a memorable cruise and stay travel experience.
If sunshine is not your thing or perhaps you are looking for something different - consider
an iconic Transatlantic voyage on Cunard Queen Mary 2. This spacious ship simply oozes
style, glamour and tradition and really offers the perfect antidote to daily routine at home.
At Jetline Cruise, we offer the most diverse range of Transatlantic cruise and stay options
in the cruise industry at amazing value for money.
On page 15 we have featured an offer on the brand new Celebrity Edge. Celebrity
Cruises have been slowly drip feeding news releases on this new class of ship and as the
summer draws to a close they will be ramping up these ready for its maiden season in the
Caribbean. One of our team was lucky enough to spot the ship nearing completion in the
shipyard in France. The ship is a sight to behold with a straight futuristic looking bow, the
x shaped funnel, the magic carpet and a sleek glass superstructure which make up the
Infinite balcony staterooms. Celebrity truly defines contemporary modern cruising and will
be the talk of the town when she launches.
In-step with the current demands of the market is our offer of the month on the facing
page. It seems the UK cannot get enough of our Lake Garda, Venice and Greek isles
combo. As Royal Caribbean Rhapsody of the Seas is a relatively small ship for such a huge
offer - availability for this summer is rapidly draining away most are turning their attention
to next summer.
In June we celebrated our 100th edition of cruise Ahoy with a chance to win a free cruise
for two in a Balcony stateroom on the magnificent MSC Magnifica from Southampton
courtesy of MSC Cruises.
We will be contacting the lucky winner in July and we will be announcing the winners in
our August edition of Cruise Ahoy.
Congratulations!
The Jetline Cruise Team!
Welcometo the July Edition of Cruise Ahoy
2 Call now to book: 0800 082 2170 or visit