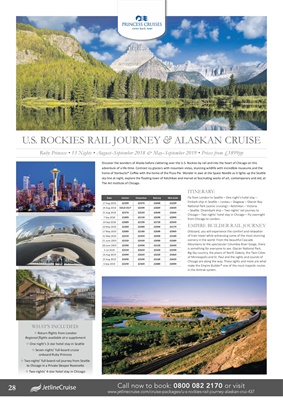 ITINERARY:
Fly from London to Seattle - One night's hotel stay -
Embark ship in Seattle - Juneau - Skagway - Glacier Bay
National Park (scenic cruising) - Ketchikan - Victoria
- Seattle. Disembark ship - Two nights' rail journey to
Chicago - Two nights' hotel stay in Chicago - Fly overnight
from Chicago to London.
EMPIRE BUILDER RAIL JOURNEY
Onboard, you will experience the comfort and relaxation
of train travel while witnessing some of the most stunning
scenery in the world. From the beautiful Cascade
Mountains to the spectacular Columbia River Gorge, there
is something for everyone to see. Glacier National Park,
Big Sky country, the plains of North Dakota, the Twin Cities
of Minneapolis and St. Paul and the sights and sounds of
Chicago are along the way. These sights and more are what
make the Empire Builder® one of the most majestic routes
in the Amtrak system.
U.S. ROCKIES RAIL JOURNEY & ALASKAN CRUISE
Ruby Princess • 13 Nights • August-September 2018 & May-September 2019 • Prices from £1899pp
WHAT'S INCLUDED:
✥ Return flights from London
Regional flights available at a supplement
✥ One night's 3-star hotel stay in Seattle
✥ Seven nights' full-board cruise
onboard Ruby Princess
✥ Two nights' full-board rail journey from Seattle
to Chicago in a Private Sleeper Roomette
✥ Two nights' 4-star hotel stay in Chicago
Discover the wonders of Alaska before clattering over the U.S. Rockies by rail and into the heart of Chicago on this
adventure of a life-time. Contrast icy glaciers with mountain vistas, stunning wildlife with incredible museums and the
home of Starbucks® Coffee with the home of the Pizza Pie. Wonder in awe at the Space Needle as it lights up the Seattle
sky line at night, explore the floating town of Ketchikan and marvel at fascinating works of art, contemporary and old, at
The Art Institute of Chicago.
Date Interior Oceanview Balcony Mini-Suite
17 Aug 2018 £2399 £2479 £3049 £3299
24 Aug 2018 SOLD OUT £2299 £2829 £3039
31 Aug 2018 £2379 £2529 £3049 £3269
7 Sep 2018 £1899 £3139 £2699 £2899
14 Sep 2018 £2089 £2199 £2729 £2939
10 May 2019 £2389 £2489 £2949 £3179
17 May 2019 £2089 £2189 £2699 £2969
31 May 2019 £2259 £2359 £2929 £3189
21 June 2019 £2339 £2439 £3099 £3389
28 June 2019 £2399 £2499 £3159 £3449
5 Jul 2019 £2559 £2659 £3329 £3599
16 Aug 2019 £2499 £2629 £3229 £3469
23 Aug 2019 £2499 £2599 £3169 £3429
6 Sep 2019 £2249 £2369 £2889 £3099
Call now to book: 0800 082 2170 or visit
www.jetlinecruise.com/cruise-packages/u-s-rockies-rail-journey-alaskan-crui-437
28