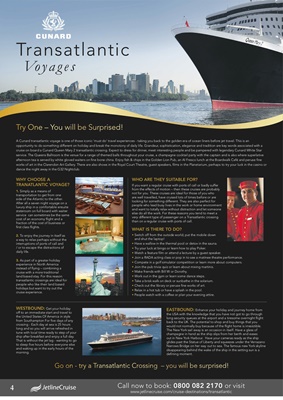 Transatlantic
Try One - You will be Surprised!
A Cunard transatlantic voyage is one of those iconic 'must do' travel experiences - taking you back to the golden era of ocean liners before jet travel. This is an
opportunity to do something different on holiday and break the monotony of daily life. Grandeur, sophistication, elegance and tradition are key words associated with a
cruise on board a Cunard Queen Mary 2 transatlantic crossing. Expect to dress for dinner, meet interesting people and be pampered with legendary Cunard White Star
service. The Queens Ballroom is the venue for a range of themed balls throughout your cruise, a champagne cocktail party with the captain and is also where superlative
afternoon tea is served by white gloved waiters on fine bone china. Enjoy fish & chips in the Golden Lion Pub, an Al Fresco lunch at the Boardwalk Café and peruse fine
works of art in the Clarendon Art Gallery. There are also shows in the Royal Court Theatre, guest speakers, films in the Planetarium, perhaps to try your luck in the casino or
dance the night away in the G32 Nightclub.
WHY CHOOSE A
TRANATLANTIC VOYAGE?
1. Simply as a means of
transportation to get from one
side of the Atlantic to the other.
After all a seven night voyage on a
luxury ship in a comfortable ensuite
stateroom on full board with waiter
service can sometimes be the same
cost of an economy flight and a
fraction of the cost of business or
first class flights.
2. To enjoy the journey in itself as
a way to relax perhaps without the
interruptions of ports of call and
/ or to escape the distractions of
daily life.
3. As part of a greater holiday
experience in North America
instead of flying - combining a
cruise with a more traditional
land based stay. For this reason
transatlantic crossings are ideal for
people who like their land based
holidays but want to try out the
cruise experience.
WESTBOUND: Get your holiday
off to an immediate start and travel to
the United States Of America in style
from Southampton For five days of any
crossing - Each day at sea is 25 hours
long and so you will arrive refreshed in
tune with local time ready to step of your
ship after breakfast and enjoy a full day.
That is without the jet lag - wanting to go
to sleep five hours before everyone else
and waking up in the early hours of the
morning.
WHO ARE THEY SUITABLE FOR?
If you want a regular cruise with ports of call or badly suffer
from the effects of motion - then these cruises are probably
not for you. These cruises are ideal for those of you who
are well travelled, have cruised lots of times before or are
looking for something different. They are also perfect for
people who lead busy lives in the work or home environment
and want to totally relax without distraction and let someone
else do all the work. For these reasons you tend to meet a
very different type of passenger on a Transatlantic crossing
than on a regular cruise with ports of call.
WHAT IS THERE TO DO?
• Switch off from the outside world; put the mobile down
and shut the laptop!
• Have a wallow in the thermal pool or detox in the sauna.
• Try your luck at bingo or learn how to play Poker.
• Watch a feature film or attend a lecture by a guest speaker.
• Join a RADA acting class or pop in to see a matinee theatre performance.
• Compete in a golf simulator competition or learn more about computers.
• Join the pub trivia quiz or learn about mixing martinis.
• Make friends with Bill W or Dorothy.
• Work out in the gym or learn some dance steps.
• Take a brisk walk on deck or sunbathe in the solarium.
• Check out the library or peruse fine works of art.
• Relax in a hot tub or have a splash in the pool.
• People watch with a coffee or plan your evening attire.
EASTBOUND: Enhance your holiday and journey home from
the USA with the knowledge that you have not got to go through
long security queues at the airport and a tiresome overnight flight
back to the UK. The potential to shop and buy things that you
would not normally buy because of the flight home is irresistible.
The New York sail away is an occasion in itself. Have a glass of
champagne in hand as the ship slips from her berth and eases
out in New York Harbour. Have your cameras ready as the ship
glides past the Statue of Liberty and squeezes under the Verrazano
Narrows Bridge on her way out to sea. The famous new York skyline
disappearing behind the wake of the ship in the setting sun is a
defining moment.
Voyages
Go on - try a Transatlantic Crossing - you will be surprised!
4 Call now to book: 0800 082 2170 or visit