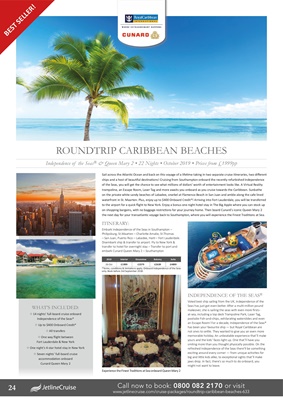 WHAT'S INCLUDED:
✥ 14 nights' full-board cruise onboard
Independence of the Seas®
✥ Up to $400 Onboard Credit*
✥ All transfers
✥ One way flight between
Fort Lauderdale & New York
✥ One night's 4-star hotel stay in New York
✥ Seven nights' full-board cruise
accommodation onboard
Cunard Queen Mary 2
Sail across the Atlantic Ocean and back on this voyage of a lifetime taking in two separate cruise itineraries, two different
ships and a host of beautiful destinations! Cruising from Southampton onboard the recently refurbished Independence
of the Seas, you will get the chance to see what millions of dollars' worth of entertainment looks like. A Virtual Reality
trampoline, an Escape Room, Laser Tag and more awaits you onboard as you cruise towards the Caribbean. Sunbathe
on the private white sandy beaches of Labadee, snorkel at Flamenco Beach in San Juan and amble along the cafe lined
waterfront in St. Maarten. Plus, enjoy up to $400 Onboard Credit*! Arriving into Fort Lauderdale, you will be transferred
to the airport for a quick flight to New York. Enjoy a bonus one night hotel stay in The Big Apple where you can stock up
on shopping bargains, with no baggage restrictions for your journey home. Then board Cunard's iconic Queen Mary 2
the next day for your transatlantic voyage back to Southampton, where you will experience the Finest Traditions at Sea.
ROUNDTRIP CARIBBEAN BEACHES
Independence of the Seas® & Queen Mary 2 • 22 Nights • October 2019 • Prices from £1999pp
INDEPENDENCE OF THE SEAS®
Voted best ship sailing from the UK, Independence of the
Seas has just got even better. After a multi-million pound
makeover, she is sailing the seas with even more firstsat-sea,
including a top deck Trampoline Park, Laser Tag,
poolside Fish-and-chips, exhilarating waterslides and even
an Escape Room! For a decade, Independence of the Seas®
has been your favourite ship - but Royal Caribbean are
not ones to settle. They wanted to give you an even more
memorable holiday. An unbeatable experience that'll make
yours and the kids' faces light up. One that'll have you
smiling more than you thought physically possible. On the
refreshed Independence of the Seas there'll be something
exciting around every corner - from unique activities for
big and little kids alike, to exceptional sights that'll make
jaws drop. In fact, there's so much to do onboard, you
might not want to leave.
2019 Interior Oceanview Balcony Suite
26 Oct £1999 £2379 £2639 £4899
*Terms, conditions & limitations apply. Onboard Independence of the Seas
only. Book before 3rd September 2018.
ITINERARY:
Embark Independence of the Seas in Southampton -
Philipsburg, St.Maarten - Charlotte Amalie, St.Thomas
- San Juan, Puerto Rico - Labadee, Haiti - Fort Lauderdale.
Disembark ship & transfer to airport. Fly to New York &
transfer to hotel for overnight stay - Transfer to port and
embark Cunard Queen Mary 2 - Southampton
BEST SELLER!
Experience the Finest Traditions at Sea onboard Queen Mary 2
Call now to book: 0800 082 2170 or visit
www.jetlinecruise.com/cruise-packages/roundtrip-caribbean-beaches-633
24