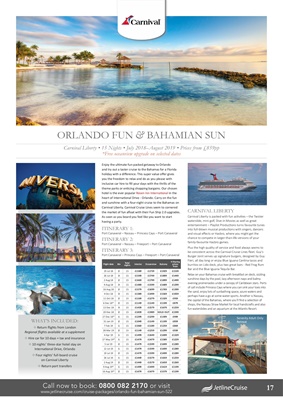 ITINERARY 1:
Port Canaveral - Nassau - Princess Cays - Port Canaveral
ITINERARY 2:
Port Canaveral - Nassau - Freeport - Port Canaveral
ITINERARY 3:
Port Canaveral - Princess Cays - Freeport - Port Canaveral
ORLANDO FUN & BAHAMIAN SUN
Carnival Liberty • 15 Nights • July 2018-August 2019 • Prices from £859pp
*Free oceanview upgrade on selected dates
WHAT'S INCLUDED:
✥ Return flights from London
Regional flights available at a supplement
✥ Hire car for 10 days + tax and insurance
✥ 10 nights' three-star hotel stay on
International Drive, Orlando
✥ Four nights' full-board cruise
on Carnival Liberty
✥ Return port transfers
Enjoy the ultimate fun-packed getaway to Orlando
and try out a taster cruise to the Bahamas for a Florida
holiday with a difference. This super value offer gives
you the freedom to relax and do as you please with
inclusive car hire to fill your days with the thrills of the
theme parks or enticing shopping bargains. Our chosen
hotel is the ever popular Rosen Inn International in the
heart of International Drive - Orlando. Carry on the fun
and sunshine with a four-night cruise to the Bahamas on
Carnival Liberty. Carnival Cruise Lines seem to cornered
the market of fun afloat with their Fun Ship 2.0 upgrades.
As soon as you board you feel like you want to start
having a party.
CARNIVAL LIBERTY
Carnival Liberty is packed with fun activities - the Twister
waterslide, mini golf, Dive-in Movies as well as great
entertainment - Playlist Productions turns favourite tunes
into full-blown musical productions with singers, dancers
and visual effects or Hasbro, where you might get the
chance to compete in larger-than-life versions of your
family-favourite Hasbro games.
Plus the high quality of service and food always seems to
be consistent across the Carnival Cruise Lines fleet. Guy's
Burger Joint serves up signature burgers, designed by Guy
Fieri, all day long or enjoy Blue Iguana Cantina tacos and
burritos on Lido deck, plus two great bars - Red Frog Rum
Bar and the Blue Iguana Tequila Bar.
Relax on your Bahamas cruise with breakfast on deck, sizzling
sunshine days by the pool, lazy afternoon naps and balmy
evening promenades under a canopy of Caribbean stars. Ports
of call include Princess Cays where you can sink your toes into
the sand, enjoy lots of sunbathing space, azure waters and
perhaps have a go at some water-sports. Another is Nassau,
the capital of the Bahamas, where you'll find a selection of
shops, the Nassau Straw Market for local handicrafts and also
fun waterslides and an aquarium at the Atlantis Resort.
Flight date Itin Total
nights Interior Oceanview Balcony
4 Sharing
prices
from
19 Jul 18 2 15 £1589 £1739 £1929 £1539
26 Jul 18 3 15 £1599 £1749 £1899 £1449
2 Aug 18 2 15 £1669 £1799 £1899 £1499
9 Aug 18 3 15 £1489 £1599 £1689 £1299
16 Aug 18 2 15 £1579 £1699 £1769 £1399
4 Oct 18 3 15 £1389 £1499 £1569 £1059
11 Oct 18 2 15 £1169 £1279 £1329 £959
6 Dec 18* 2 15 £1149 £1149 £1199 £879
13 Dec 18 3 15 £1439 £1579 £1679 £1259
20 Dec 18 2 15 £1839 £1989 SOLD OUT £1599
27 Dec 18* 1 15 £1299 £1299 £1399 £999
31 Jan 19 2 15 £1049 £1149 £1199 £859
7 Feb 19 1 15 £1069 £1189 £1259 £869
28 Mar 19 2 15 £1149 £1259 £1299 £939
4 Apr 19 1 15 £1499 £1649 £1699 £1329
17 May 19* 1 15 £1479 £1479 £1589 £1229
5 Jul 19 2 15 £1479 £1599 £1699 £1289
12 Jul 19 1 15 £1479 £1599 £1699 £1289
19 Jul 19 2 15 £1479 £1599 £1699 £1289
26 Jul 19 1 15 £1449 £1579 £1659 £1259
2 Aug 19 2 15 £1449 £1579 £1659 £1269
9 Aug 19* 1 15 £1499 £1499 £1619 £1199
16 Aug 19* 2 15 £1479 £1479 £1579 £1199
Serenity Adult Only
Retreat
Call now to book: 0800 082 2170 or visit
www.jetlinecruise.com/cruise-packages/orlando-fun-bahamian-sun-522 17