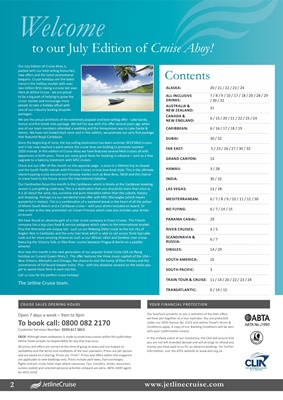 2 Open 7 days a week - 9am to 9pm
To book call: 0800 082 2170
Customer Services Number: 0203 617 5815
E&OE: Although every endeavour is made to avoid inaccuracies within this publication
Jetline Travel accepts no responsibility for any that may occur.
All prices and offers are correct at the time of going to press and are subject to
availability and the terms and conditions of the tour operators. Prices are per person
and are based on 2 sharing. Prices are "From". Prices and offers within this magazine
are applicable to new bookings only. Prices include port taxes, fuel surcharges,
flights and pre cruise hotel stays where necessary. Tips, transfers, drinks, excursions
(unless stated) and selected personal activities onboard are extra. ABTA J1693 agent
for ATOL 6153.
CRUISE SALES OPENING HOURS
Our brochure presents to you a selection of the best offers
we have put together as a tour operator. You are protected
under our ATOL licence No: 6153 and Jetline Travel's Terms &
Conditions apply. A copy of our Booking Conditions will be sent
with your confirmation invoice.
In the unlikely event of our insolvency, the CAA will ensure that
you are not left stranded abroad and will arrange to refund any
money you have paid to us for an advance booking. For further
information, visit the ATOL website at www.atol.org.uk.
YOUR FINANCIAL PROTECTION
Our July Edition of Cruise Ahoy is
packed with our best-selling favourites,
new offers and the latest promotional
bargains. Cruise holidays are the latest
trend in the holiday market with over
two million Brits taking a cruise last year.
Here at Jetline Cruise - we are proud
to be a big part of helping to grow the
cruise market and encourage more
people to take a holiday afloat with
one of our industry leading bespoke
packages.
We are the proud architects of the extremely popular and best-selling offer - Lake Garda,
Venice and the Greek isles package. We led the way with this offer several years ago when
one of our team members attended a wedding and the honeymoon was to Lake Garda &
Venice. We have not looked back since and in this edition, we promote our very first package
that featured Royal Caribbean.
Since the beginning of June, the top selling destination has been summer 2019 Med cruises
and it has now reached a point where the cruise lines are looking to promote summer
2020 instead. In this edition of Cruise Ahoy we have featured several Med cruises all with
departures in both years. There are some great deals for booking in advance - such as a free
upgrade to a balcony stateroom with MSC cruises.
Check out our offer of the month on the opposite page - a once in a lifetime trip to Hawaii
and the South Pacific islands with Princess Cruises in true love-boat style. This is the ultimate
island-hopping cruise around such faraway exotics such as Bora Bora, Tahiti and the chance
to travel back to the future across the International Dateline.
Our Destination focus this month is the Caribbean; which is timely as the Caribbean booking
season is just getting underway. This is a destination that you should do more than once as
it is all about the sand, sea, sunshine and pure relaxation rather than the culture, history
and shopping. Perhaps try our wonderful new offer with MSC Meraviglia (which means
wonderful in Italian). This is a combination of a weekend break in the heart of all the action
of Miami South Beach and a Caribbean cruise - with your drinks included on board. Or
take-a-look at the new promotion on Crown Princess which now also includes your drinks
on-board.
We have found an absolute gem of a river cruise company in Croisi Cruises. This French
company has a top-class food & service pedigree which caters to the International market.
Plus-the itineraries are unique too - such us our Mekong Delta cruise to the lost city of
Angkor Wat in Cambodia and the only river boat which is able to sail across Tonle Sap Lake.
Look out for more amazing itineraries such as our African safari and Zambezi river cruise
featuring the Victoria Falls or Elbe River cruises between Prague & Berlin on a paddlewheeler.
Also new this month is the next generation of our popular Grand Circle USA no-flying
holidays on Cunard Queen Mary 2. This offer features the three music capitals of the USA -
New Orleans, Memphis and Chicago, the chance to visit the home of Elvis Presley and the
convenience of full board sleeper trains. Plus - with less distance covered on the tracks you
get to spend more time in each city too.
Call us now for the perfect cruise holiday!
The Jetline Cruise team.
to our July Edition of Cruise Ahoy!
Welcome
ALASKA: 20 / 21 / 22 / 23 / 24
ALL INCLUSIVE
DRINKS:
7 / 8 / 9 / 10 / 17 / 18 / 20 / 28 / 29
/ 30 / 32
AUSTRALIA &
NEW ZEALAND:
31
CANADA &
NEW ENGLAND:
6 / 15 / 20 / 21 / 22 / 23 / 24
CARIBBEAN: 6 / 16 / 17 / 18 / 19
DUBAI: 30 / 32
FAR EAST: 5 / 23 / 26 / 27 / 30 / 32
GRAND CANYON: 13
HAWAII: 3 / 28
INDIA: 30 / 32
LAS VEGAS: 13 / 28
MEDITERRANEAN: 6 / 7 / 8 / 9 / 10 / 11 / 12 / 30
NO FLYING: 6 / 7 / 14 / 15
PANAMA CANAL: 29
RIVER CRUISES: 4 / 5
SCANDINAVIA &
RUSSIA:
6 / 7
SINGLES: 14 / 29
SOUTH AMERICA: 25
SOUTH PACIFIC: 3
TRAIN TOUR & CRUISE: 11 / 14 / 20 / 22 / 23 / 24
TRANSATLANTIC: 6 / 14 / 15
Contents