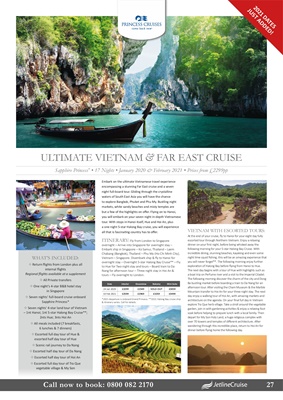 Call now to book: 0800 082 2170 27
ITINERARY: Fly from London to Singapore
overnight - Arrive into Singapore for overnight stay -
Embark ship in Singapore - Ko Samui, Thailand - Laem
Chabang (Bangkok), Thailand - Phu My (Ho Chi Minh City),
Vietnam - Singapore. Disembark ship & fly to Hanoi for
overnight stay - Overnight 5-star Halong Bay Cruise** - Fly
to Hue for Two night stay and tours - Board train to Da
Nang for afternoon tour - Three night stay in Hoi An &
tours - Fly overnight to London.
ULTIMATE VIETNAM & FAR EAST CRUISE
Sapphire Princess* • 17 Nights • January 2020 & February 2021 • Prices from £2299pp
WHAT'S INCLUDED:
✥ Return flights from London plus all
internal flights
Regional flights available at a supplement
✥ All Private transfers
✥ One night's 4-star B&B hotel stay
in Singapore
✥ Seven nights' full-board cruise onboard
Sapphire Princess*
✥ Seven nights' 4-star land tour of Vietnam
- 1nt Hanoi; 1nt 5-star Halong Bay Cruise**;
2nts Hue; 3nts Hoi An
✥ All meals included (7 breakfasts,
6 lunches & 7 dinners)
✥ Escorted full day tour of Hue &
escorted half day tour of Hue
✥ Scenic rail journey to Da Nang
✥ Escorted half day tour of Da Nang
✥ Escorted half day tour of Hoi An
✥ Escorted full day tour of Tra Que
vegetable village & My Son
Embark on the ultimate Vietnamese travel experience
encompassing a stunning Far East cruise and a seven
night full-board tour. Gliding through the crystalline
waters of South East Asia you will have the chance
to explore Bangkok, Phuket and Phu My. Bustling night
markets, white sandy beaches and misty temples are
but a few of the highlights on offer. Flying on to Hanoi,
you will embark on your seven night in-depth Vietnamese
tour. With stops in Hanoi itself, Hue and Hoi An, plus
a one night 5-star Halong Bay cruise, you will experience
all that is fascinating country has to offer.
Date Interior Oceanview Balcony Mini-Suite
24 Jan 2020 £2299 £2549 SOLD OUT £3059
10 Feb 2021 £2599 £2969 £3259 £3499
*2021 departure is onboard Grand Princess. **2021 Halong Bay cruise ship
& itinerary varies. Call for details.
VIETNAM WITH ESCORTED TOURS:
At the end of your cruise, fly to Hanoi for your eight day fully
escorted tour through Northern Vietnam. Enjoy a relaxing
dinner on your first night, before being whisked away the
following morning for your 5-star Halong Bay Cruise. With
incredible dining, stunning beaches, kayaking and even some
night time squid fishing, this will be an amazing experience that
you will never forget**. The following morning enjoy further
exploration of Halong Bay before flying from Hanoi to Hue.
The next day begins with a tour of Hue with highlights such as
a boat trip on Perfume river and a visit to the Imperial Citadel.
The following morning discover the charm of the city and Dong
Ba bustling market before boarding a train to Da Nang for an
afternoon tour. After visiting the Cham Museum & the Marble
Mountain transfer to Hoi An for your three night stay. The next
day enjoy a walking tour of Hoi An, with amazing markets and
architecture on the agenda. On your final full day in Vietnam
explore Tra Que herb village. Take a stroll around the vegetable
garden, join in with gardening activities & enjoy a relaxing foot
soak before helping to prepare lunch with a local family. Then
depart for My Son Holy Land, a huge religious complex with
over 70 towers and temples of different architecture. After
wandering through this incredible place, return to Hoi An for
dinner before flying home the following day.
2021 DATES
JUST ADDED!