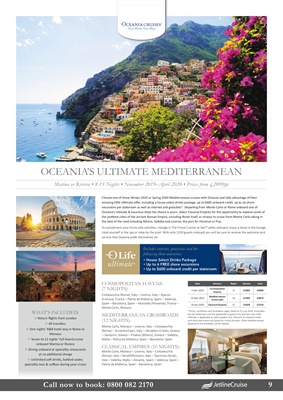 Call now to book: 0800 082 2170 9
OCEANIA'S ULTIMATE MEDITERRANEAN
Marina or Riviera • 8-13 Nights • November 2019-April 2020 • Prices from £2099pp
Date Itinerary Nights Balcony Suite
3 Nov 2019
Cosmopolitan
Havens
8 £2099 £2989
10 Nov 2019
Mediterranean
Crossroads
13 £3399 £4879
18 Apr 2020 Classical Empires 11 £3639 £5139
*Terms, conditions and limitations apply. Book by 31 July 2019. Amenities
are per stateroom and are applicable to guests one and two only. Olife
Ultimate is applicable to select grades only. Amount of onboard credit
and shore excursions are based on cruise duration. Other Mediterranean
departures are available, call for details.
Choose one of these Winter 2019 or Spring 2020 Mediterranean cruises with Oceania and take advantage of their
amazing Olife Ultimate offer, including a house select drinks package, up to $600 onboard credit, up to six shore
excursions per stateroom as well as internet and gratuities*. Departing from Monte Carlo or Rome onboard one of
Oceania's intimate & luxurious ships the choice is yours. Select Classical Empires for the opportunity to explore some of
the prettiest cities of the ancient Roman Empire, including Rome itself, or choose to cruise from Monte Carlo taking in
the best of the med including Athens, Valletta and Livorno, the port for Florence or Pisa.
To compliment your shore side activities, indulge in The Finest Cuisine at Sea™ while onboard, enjoy a show in the lounge,
treat yourself in the spa or relax by the pool. With only 1250 guests onboard you will be sure to receive the welcome and
service that Oceania pride themselves on.
Includes internet, gratuities and the
following three amenities:
• House Select Drinks Package
• Up to 6 FREE shore excursions
• Up to $600 onboard credit per stateroom
WHAT'S INCLUDED:
✥ Return flights from London
✥ All transfers
✥ One nights' B&B hotel stay in Rome or
Monaco
✥ Seven to 12 nights' full-board cruise
onboard Marina or Riviera
✥ Dining onboard at speciality restaurants
at no additional charge
✥ Unlimited soft drinks, bottled water,
speciality teas & coffees during your cruise
COSMOPOLITAN HAVENS
(7 NIGHTS):
Civitavecchia (Rome), Italy - Livorno, Italy - Ajaccio
(Corsica), France - Palma de Mallorca, Spain - Valencia,
Spain - Barcelona, Spain - Marseille (Provence), France -
Monte Carlo, Monaco
MEDITERRANEAN CROSSROADS
(12 NIGHTS):
Monte Carlo, Monaco - Livorno, Italy - Civitavecchia
(Rome) - Sorrento/Capri, Italy - Heraklion (Crete), Greece
- Santorini, Greece - Piraeus (Athens), Greece - Valletta,
Malta - Palma de Mallorca, Spain - Barcelona, Spain
CLASSICAL EMPIRES (10 NIGHTS):
Monte Carlo, Monaco - Livorno, Italy - Civitavecchia
(Rome), Italy - Amalfi/Positano, Italy - Taormina (Sicily),
Italy - Valletta, Malta - Alicante, Spain - Valencia, Spain -
Palma de Mallorca, Spain - Barcelona, Spain
ultimate*