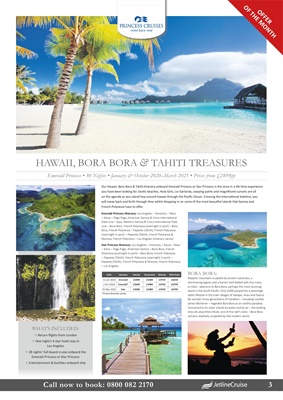 Call now to book: 0800 082 2170 3
Emerald Princess itinerary: Los Angeles - Honolulu - Maui
- Kauai - Pago Pago, American Samoa & Cross International
Date Line - Apia, Western Samoa & Cross International Date
Line - Bora Bora, French Polynesia (overnight in port) - Bora
Bora, French Polynesia - Papeete (Tahiti), French Polynesia
(overnight in port) - Papeete (Tahiti), French Polynesia &
Moorea, French Polynesia - Los Angeles (itinerary varies)
Star Princess itinerary: Los Angeles - Honolulu - Kauai - Maui
- Kona - Pago Pago, American Samoa - Bora Bora, French
Polynesia (overnight in port) - Bora Bora, French Polynesia
- Papeete (Tahiti), French Polynesia (overnight in port) -
Papeete (Tahiti), French Polynesia & Moorea, French Polynesia
- Los Angeles
WHAT'S INCLUDED:
✥ Return flights from London
✥ One night's 4-star hotel stay in
Los Angeles
✥ 28 nights' full-board cruise onboard the
Emerald Princess or Star Princess
✥ Entertainment & facilities onboard ship
Our Hawaii, Bora Bora & Tahiti itinerary onboard Emerald Princess or Star Princess is the once in a life time experience
you have been looking for. Exotic beaches, Hula Girls, Lei Garlands, swaying palms and magnificent sunsets are all
on the agenda as you island hop around Hawaii through the Pacific Ocean. Crossing the international dateline, you
will move back and forth through time whilst dropping in on some of the most beautiful islands that Samoa and
French Polynesia have to offer.
Date Itinerary Interior Oceanview Balcony Mini-Suite
31 Jan 2020 Emerald £2899 £3389 £4759 £6269
2 Oct 2020 Emerald* £3069 £3489 £4769 £6799
25 Mar 2021 Star £3069 £3489 £4769 £6799
*Cruise itinerary varies.
BORA BORA:
Majestic mountains sculpted by ancient volcanoes, a
shimmering lagoon and a barrier reef dotted with tiny motu,
or islets - welcome to Bora Bora, perhaps the most stunning
island in the South Pacific. Only 4,600 people live a seemingly
idyllic lifestyle in the main villages of Vaitape, Anau and Faanui.
No wonder those generations of travellers - including novelist
James Michener - regarded Bora Bora as an earthly paradise.
Connected to its sister islands by water and by air - the landing
strip sits atop Motu Mute, one of the reef's islets - Bora Bora
remains relatively unspoiled by the modern world.
HAWAII, BORA BORA & TAHITI TREASURES
Emerald Princess • 30 Nights • January & October 2020-March 2021 • Prices from £2899pp
OFFER
OF THE MONTH