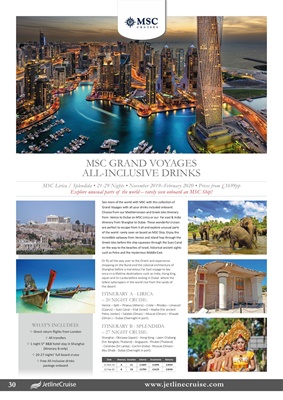 30
MSC GRAND VOYAGES
ALL-INCLUSIVE DRINKS
MSC Lirica / Splendida • 21-29 Nights • November 2019-February 2020 • Prices from £1699pp
Explore unusual parts of the world - rarely seen onboard an MSC Ship!
WHAT'S INCLUDED:
✥ Direct return flights from London
✥ All transfers
✥ 1 night 5* B&B hotel stay in Shanghai
(Itinerary B only)
✥ 20-27 nights' full-board cruise
✥ Free All-Inclusive drinks
package onboard
See more of the world with MSC with this collection of
Grand Voyages with all your drinks included onboard.
Choose from our Mediterranean and Greek isles Itinerary
from Venice to Dubai on MSC Lirica or our Far east & India
itinerary from Shanghai to Dubai. These wonderful cruises
are perfect to escape from it all and explore unusual parts
of the world rarely seen on board an MSC Ship. Enjoy the
incredible sailaway from Venice and island hop through the
Greek Isles before the ship squeezes through the Suez Canal
on the way to the beaches of Israel, historical ancient sights
such as Petra and the mysterious Middle East.
ITINERARY A - LIRICA
- 20 NIGHT CRUISE:
Venice - Split - Piraeus (Athens) - Crete - Rhodes - Limassol
(Cyprus) - Suez Canal - Eilat (Israel) - Aqaba (For ancient
Petra, Jordan) - Salalah (Oman) - Muscat (Oman) - Khasab
(Oman ) - Dubai (Overnight in port).
ITINERARY B - SPLENDIDA
- 27 NIGHT CRUISE:
Shanghai - Okinawa (Japan) - Hong Kong - Laem Chabang
(For Bangkok, Thailand) - Singapore - Phuket (Thailand)
- Colombo (Sri Lanka) - Cochin (India) - Muscat (Oman) -
Abu Dhabi - Dubai (Overnight in port).
Or fly all the way over to the Orient and experience
shopping on the Bund and the colonial architecture of
Shanghai before a marvelous Far East voyage to key
once-in-a-lifetime destinations such as India, Hong King,
Japan and Sri Lanka before ending in Dubal where the
tallest sykscrapers in the world rise from the sands of
the desert.
Date Itinerary Duration Interior Oceanview Balcony
21 Nov 19 A 21 £1699 £1999 £2499
12 Feb 20 B 29 £2799 £3129 £3599