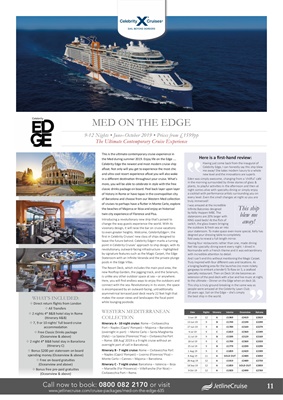 This is the ultimate contemporary cruise experience in
the Med during summer 2019. Enjoy life on the Edge ....
Celebrity Edge the newest and most modern cruise ship
afloat. Not only will you get to experience the most chic
and ultra cool resort experience afloat you will also wake
in a different destination throughout your cruise. What's
more, you will be able to celebrate in style with the free
classic drinks package on board. Peel back layer upon layer
of history in Rome or have tapas in the cosmopolitan city
of Barcelona and choose from our Western Med collection
of cruises to perhaps have a flutter in Monte Carlo, explore
the beaches of Majorca or Ibiza and enjoy an historical
twin city experience of Florence and Pisa.
Introducing a revolutionary new ship that's poised to
change the way guests experience the world. With its
visionary design, it will raise the bar on cruise vacations
to even greater heights. Welcome, CelebrityEdgeSM, the
first in Celebrity Cruises' new class of ships designed to
leave the future behind. Celebrity EdgeSM marks a turning
point in Celebrity Cruises' approach to ship design, with its
revolutionary, outward-facing infrastructure - highlighted
by signature features such as the Magic Carpet, the Edge
Stateroom with an Infinite Veranda and the private plunge
pools in the Edge Villas.
The Resort Deck, which includes the main pool area, the
new Rooftop Garden, the jogging track, and the Solarium,
is unlike any other outdoor space at sea - or anywhere.
Here, you will find endless ways to enjoy the outdoors and
connect with the sea. Revolutionary in its vision, the space
is encompassed by an outward-facing, untraditionally
asymmetrical terraced pool deck nearly 22 feet high that
makes the ocean views and landscapes the focal point
while lounging poolside.
MED ON THE EDGE
9-12 Nights • June-October 2019 • Prices from £1599pp
The Ultimate Contemporary Cruise Experience
WHAT'S INCLUDED:
✥ Direct return flights from London
✥ All Transfers
✥ 2 nights 4* B&B hotel stay in Rome
(Itinerary A&B)
✥ 7, 9 or 10 nights' full board cruise
accommodation
✥ Free Classic Drinks package
(Oceanview & above)
✥ 2 night 4* B&B hotel stay in Barcelona
(Itinerary C)
✥ Bonus $200 per stateroom on board
spending money (Oceanview & above)
✥ Free on-board gratuities
(Oceanview and above)
✥ Bonus free pre-paid gratuities
(Oceanview & above)
Date Nights Itinerary Interior Oceanview Balcony
3 Jun 19 12 A £1969 £2419 £2819
13 Jun 19 9 B £1749 £2199 £2299
27 Jun 19 9 B £1789 £2169 £2279
4 Jul 19 9 C £1819 £2369 £2399
11 Jul 19 9 B £1599 £2129 £2169
18 Jul 19 9 C £1799 £2369 £2359
25 Jul 19 9 B £1779 £2299 £2299
1 Aug 19 9 C £1859 £2429 £2399
8 Aug 19 11 A SOLD OUT £2489 £3059
28 Aug 19 12 A £1919 £2489 £2759
18 Sep 19 12 A £1859 SOLD OUT £2859
9 Oct 19 12 A £1929 £2499 £2769
WESTERN MEDITERRANEAN
COLLECTION
Itinerary A - 10 night cruise: Rome - Civitavecchia
Port - Naples (Capri/ Pompeii) - Majorca - Barcelona
(overnight in port) - Monte Carlo - Santa Margherita
(Italy) - La Spezia (Florence/ Pisa) - Civitavecchia Port
- Rome. (08 Aug' 2019 is a 9 night cruise without an
overnight port of call in Barcelona).
Itinerary B - 7 night cruise: Rome - Civitavecchia Port
- Naples (Capri/ Pompeii) - Livorno (Florence/ Pisa) -
Monte Carlo - Cannes - Majorca - Barcelona.
Itinerary C - 7 night cruise: Barcelona - Valencia - Ibiza
- Marseille (For Provence) - Villefranche (For Nice) -
Civitavecchia Port - Rome.
Here is a first-hand review:
Having just come back from the inaugural of
Celebrity Edge, I can honestly say this ship blew
me away! She takes modern luxury to a whole
new level and the innovations are superb.
Eden was simply awesome, changing from a 'chillful' café
in the morning surrounded by three stories of glass &
plants, to playful activities in the afternoon and then at
night comes alive with specialty dining or simply enjoy
a cocktail with performance artists surrounding you on
every level. Even the smell changes at night so you are
truly immersed!
I was amazed at the incredible
Infinite Balconies designed
by Kelly Hoppen MBE. The
staterooms are 20% larger with
KING sized beds! At the flick of
switch, the glass lowers bringing
the outdoors & fresh sea air into
your stateroom. To make space even more special, Kelly has
deigned your dressing table to completely
fold away to reveal a full-length mirror.
Having four restaurants rather than one, made dining
feel like specialty dining event every night. I dined in
Normandie with a French theme and it was extraordinary
with incredible attention to detail.
And I can't end this without mentioning the Magic Carpet.
Truly inspired with four different uses and locations. As
a longing/waiting area for the launches (no more rickety
gangways to embark a tender!) To Raw on 5, a seafood
specialty restaurant. Then on Deck 14 she becomes an
extension of the pool deck with a bar and live music at night,
to the ultimate - Dinner on the Edge when on deck 16.
This ship is truly ground-breaking in the same way as
people were amazed at the Celebrity Lawn Club
10 years ago. Sail on the Edge - she's simply
the best ship in the world.
This ship
blew me
away!
11
Call now to book: 0800 082 2170 or visit