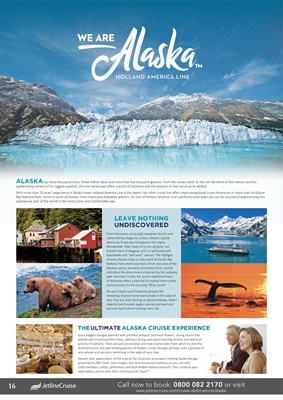 has three thousand rivers, three million lakes and more than five thousand glaciers. From the snowy north to the rich farmland of the interior and the
spellbinding scenery of its rugged coastline, this vast landscape offers a world of contrasts and the essence of raw nature at its wildest.
With more than 70 years' experience in Alaska travel, Holland America Line is the expert. No other cruise line offers more exceptional cruise itineraries or more visits to Glacier
Bay National Park; home to some of Alaska's most impressive tidewater glaciers. On one of Holland America Line's perfectly-sized ships you can be assured of experiencing this
spectacular part of the world in the most scenic and comfortable way.
Enjoy elegant lounges adorned with priceless antiques and fresh flowers…dining rooms that
sparkle with crystal and fine china…delicious dining and award-winning service, and above all
gracious hospitality. There are picture windows and teak promenades from which to view the
emerald forests and spell binding glaciers of Alaska's Inside Passage, perhaps even a glimpse of
orca whales and sea lions swimming in the wake of your ship.
Deepen your appreciation of the area as live musicians accompany riveting Alaska footage
presented by BBC Earth. Gain insights into time-honoured traditions as you visit with
tribal members, artists, performers and local wildlife experts onboard. Then continue your
explorations ashore with HAL's immersive EXC Tours™.
From Vancouver, cruise past evergreen forests and
native fishing villages to Juneau, Alaska's Capital,
where you'll see your first glacier, the mighty
Mendenhall. Then travel on to the old gold rush
frontier town of Skagway, with its well-preserved
boardwalks and "wild west" saloons. The highlight
of every Alaska cruise is a day spent at Glacier Bay
National Park where you have a front row view of the
fabulous spires, pinnacles and pillars of ice, and be
told about the phenomena of glaciers by the onboard
park naturalist. Finally, the quaint weathered town
of Ketchikan offers a park full of mystical totem poles
and excursions to the stunning "Misty Fjords".
On your travels you'll hopefully glimpse the
breeching of great hump-back whales in the wake of
your ship and seals basking on glacial icebergs. Watch
majestic bald-headed eagles soaring overhead and
see sock-eyed salmon turning rivers red.
16 Call now to book: 0800 082 2170 or visit