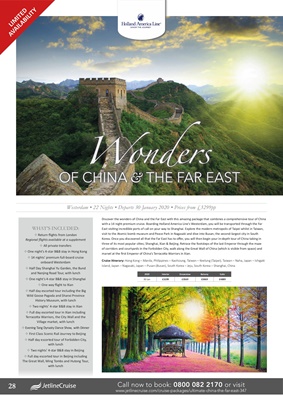 Westerdam • 22 Nights • Departs 30 January 2020 • Prices from £3299pp
WHAT'S INCLUDED:
✥ Return flights from London
Regional flights available at a supplement
✥ All private transfers
✥ One night's 4-star B&B stay in Hong Kong
✥ 14 nights' premium full-board cruise
onboard Westerdam
✥ Half Day Shanghai Yu Garden, the Bund
and Nanjing Road Tour, with lunch
✥ One night's 4-star B&B stay in Shanghai
✥ One way flight to Xian
✥ Half day escorted tour including the Big
Wild Goose Pagoda and Shanxi Province
History Museum, with lunch
✥ Two nights' 4-star B&B stay in Xian
✥ Full day escorted tour in Xian including
Terracotta Warriors, the City Wall and the
Village market, with lunch
✥ Evening Tang Dynasty Dance Show, with Dinner
✥ First Class Scenic Rail Journey to Beijing
✥ Half day escorted tour of Forbidden City,
with lunch
✥ Two nights' 4-star B&B stay in Beijing
✥ Full day escorted tour in Beijing including
The Great Wall, Ming Tombs and Hutong Tour,
with lunch
Discover the wonders of China and the Far East with this amazing package that combines a comprehensive tour of China
with a 14 night premium cruise. Boarding Holland America Line's Westerdam, you will be transported through the Far
East visiting incredible ports of call on your way to Shanghai. Explore the modern metropolis of Taipei whilst in Taiwan,
visit to the Atomic bomb museum and Peace Park in Nagasaki and dive into Busan; the second-largest city in South
Korea. Once you discovered all that the Far East has to offer, you will then begin your in-depth tour of China taking in
three of its most popular cities; Shanghai, Xian & Beijing. Retrace the footsteps of the last Emperor through the maze
of corridors and courtyards in the Forbidden City, walk along the Great Wall of China (which is visible from space) and
marvel at the first Emperor of China's Terracotta Warriors in Xian.
Cruise itinerary: Hong Kong - Manila, Philippines - Kaohsiung, Taiwan - Keelung (Taipei), Taiwan - Naha, Japan - Ishigaki
Island, Japan - Nagasaki, Japan - Pusan (Busan), South Korea - Jeju, South Korea - Shanghai, China
Wonders
OF CHINA & THE FAR EAST
2020 Interior Oceanview Balcony Suite
30 Jan £3299 £3569 £3869 £4889
LIMITED
AVAILABILITY
28 Call now to book: 0800 082 2170 or visit
www.jetlinecruise.com/cruise-packages/ultimate-china-the-far-east-347