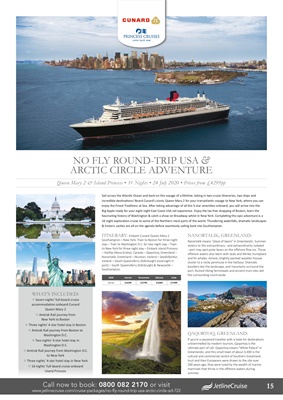 NO FLY ROUND-TRIP USA &
ARCTIC CIRCLE ADVENTURE
Queen Mary 2 & Island Princess • 31 Nights • 24 July 2020 • Prices from £4299pp
WHAT'S INCLUDED:
✥ Seven nights' full-board cruise
accommodation onboard Cunard
Queen Mary 2
✥ Amtrak Rail journey from
New York to Boston
✥ Three nights' 4-star hotel stay in Boston
✥ Amtrak Rail journey from Boston to
Washington D.C.
✥ Two nights' 4-star hotel stay in
Washington D.C.
✥ Amtrak Rail journey from Washington D.C.
to New York
✥ Three nights' 4-star hotel stay in New York
✥ 16 nights' full-board cruise onboard
Island Princess
Sail across the Atlantic Ocean and back on this voyage of a lifetime; taking in two cruise itineraries, two ships and
incredible destinations! Board Cunard's iconic Queen Mary 2 for your transatlantic voyage to New York, where you can
enjoy the Finest Traditions at Sea. After taking advantage of all the 5-star amenities onboard, you will arrive into the
Big Apple ready for your eight night East Coast USA rail experience. Enjoy the tax free shopping of Boston, learn the
fascinating history of Washington & catch a show on Broadway whilst in New York. Completing this epic adventure is a
16 night exploration cruise to some of the Northern most parts of the world. Thundering waterfalls, dramatic landscapes
& historic castles are all on the agenda before seamlessly sailing back into Southampton.
ITINERARY: Embark Cunard Queen Mary 2
Southampton - New York. Train to Boston for three night
stay - Train to Washington D.C. for two night stay - Train
to New York for three night stay - Embark Island Princess
- Halifax (Nova Scotia), Canada - Qaqortoq, Greenland -
Nanortalik, Greenland - Akureyri, Iceland - Seydisfjordur,
Iceland - South Queensferry (Edinburgh) (overnight in
port) - South Queensferry (Edinburgh) & Newcastle -
Southampton
2020 Interior Oceanview Balcony Suite
24 Jul £4599 £4799 £5389 £7499
NANORTALIK, GREENLAND:
Nanortalik means "place of bears" in Greenlandic. Summer
visitors to this extraordinary - and extraordinarily isolated
- port may spot polar bears on the offshore flow ice. Those
offshore waters also teem with seals and Minke, humpback
and fin whales. Ashore, brightly painted wooden houses
cluster to a rocky peninsula in the harbour. Dramatic
boulders dot the landscape, and mountains surround the
port. Ruined Viking farmsteads and ancient Inuit sites dot
the surrounding countryside.
QAQORTOQ, GREENLAND:
If you're a seasoned traveller with a taste for destinations
untrammelled by modern tourism, Qaqortoq is the
ultimate port of call. Qaqortoq means "White Palace" in
Greenlandic, and this small town of about 3,400 is the
cultural and commercial centre of Southern Greenland.
Inuit and then Europeans were drawn to the site over
200 years ago, they were lured by the wealth of marine
mammals that thrive in the offshore waters during
summer.
15
Call now to book: 0800 082 2170 or visit
www.jetlinecruise.com/cruise-packages/no-fly-round-trip-usa-arctic-circle-ad-722