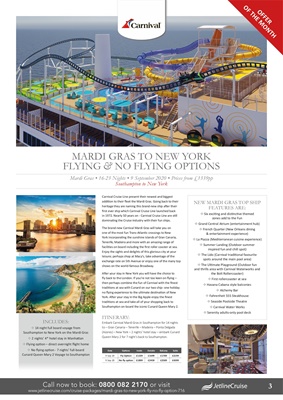 INCLUDES:
✥ 14 night full board voyage from
Southampton to New York on the Mardi Gras
✥ 2 nights' 4* hotel stay in Manhattan
✥ Flying option - direct overnight flight home
✥ No flying option - 7 nights' full-board
Cunard Queen Mary 2 Voyage to Southampton
Carnival Cruise Line present their newest and biggest
addition to their fleet the Mardi Gras. Going back to their
heritage they are naming this brand-new ship after their
first ever ship which Carnival Cruise Line launched back
in 1972. Nearly 50 years on - Carnival Cruise Line are still
dominating the Cruise Industry with their fun ships.
The brand-new Carnival Mardi Gras will take you on
one of the most fun Trans-Atlantic crossings to New
York incorporating the sunshine islands of Gran Canaria,
Tenerife, Madeira and more with an amazing range of
facilities on board including the first roller coaster at sea.
Enjoy the sights and delights of this glorious city at your
leisure; perhaps shop at Macy's, take advantage of the
exchange rate on 5th Avenue or enjoy one of the many top
shows on the world-famous Broadway.
After your stay in New York you will have the choice to
fly back to the London. If you're not too keen on flying -
then perhaps combine the fun of Carnival with the finest
traditions at sea with Cunard on our two ship- one holiday
no flying experience to the ultimate destination of New
York. After your stay in the Big Apple enjoy the finest
traditions at sea and take all of your shopping back to
Southampton on-board the iconic Cunard Queen Mary 2.
ITINERARY:
Embark Carnival Mardi Gras in Southampton for 14 nights
to - Gran Canaria - Tenerife - Madeira - Ponta Delgada
(Azores) - New York - 2 nights' hotel stay - embark Cunard
Queen Mary 2 for 7 night's back to Southampton.
MARDI GRAS TO NEW YORK
FLYING & NO FLYING OPTIONS
Mardi Gras • 16-23 Nights • 9 September 2020 • Prices from £1339pp
Southampton to New York
Date Options Inside Outside Balcony Suite
9 Sep 20 Fly Option £1339 £1699 £1789 £2199
9 Sep 20 No fly option £1899 £2459 £2589 £4399
OFFER
OF THE MONTH
NEW MARDI GRAS TOP SHIP
FEATURES ARE:
✥ Six exciting and distinctive themed
zones add to the Fun
✥ Grand Central Atrium (entertainment hub)
✥ French Quarter (New Orleans dining
& entertainment experience)
✥ La Piazza (Mediterranean cuisine experience)
✥ Summer Landing (Outdoor summer
inspired fun and chill spot)
✥ The Lido (Carnival traditional favourite
spots around the main pool area)
✥ The Ultimate Playground (Outdoor fun
and thrills area with Carnival Waterworks and
the Bolt Rollercoaster)
✥ First rollercoaster at sea
✥ Havana Cabana style balconies
✥ Alchemy Bar
✥ Fahrenheit 555 Steakhouse
✥ Seaside Poolside Theatre
✥ Carnival Water Works
✥ Serenity adults-only pool deck
3
Call now to book: 0800 082 2170 or visit
www.jetlinecruise.com/cruise-packages/mardi-gras-to-new-york-fly-no-fly-option-716